November, 2, 2011
11/02/11
5:22
PM ET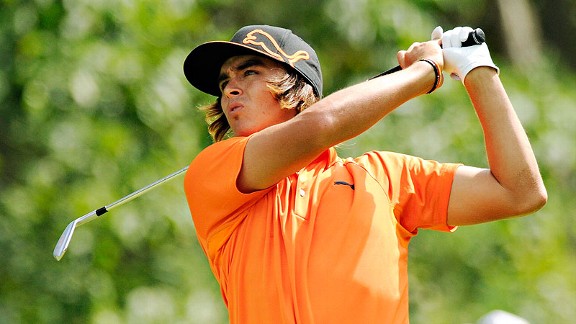 Bob DeChiara/US PresswireRickie Fowler will appear alongside Tiger Woods on the U.S. cover of "Tiger Woods PGA Tour 13."
"Tiger Woods PGA Tour 12" introduced gamers to golfer Rickie Fowler (and his Oklahoma State orange). One year later, gamers voted for Fowler (virtual orange and all) to be on the cover of "Tiger 13" alongside Woods.
"It's unbelievable," Fowler told me over the phone as he stepped off a plane and headed immediately out to play a round. "Starting off last year with my character being introduced in the game, and then this year to be on the cover is just huge. It's a lot bigger deal than just being in the game. And then how they had the fans vote for the cover this year, I didn't want any of my friends to beat me out and hold it over my head, so I had to beat them out and get on the cover."
And beat them out he did, as the 2010 Rookie of the Year earned 52-percent of the final vote to knock off Bubba Watson and orange-out the cover of "Tiger 13."
"I thought I had a fair chance to win, but you never know. Obviously, I had to beat some pretty good guys and I knew Bubba was going to have a strong following and get a lot of votes, but I was hoping to pull it off."
Jon Robinson: Are you a big gamer?
Rickie Fowler: I play a little bit. I always spent a lot of time outdoors, but if it was dark and I had a little free time, I'd fire up my PlayStation. Being involved with golf, the "Tiger" game has always been fun to play and it's been great to see how it has progressed throughout the years. Golf is what I do and it's what I love to do, whether it's in real life or in "Tiger." And now that I'm actually on the cover, I'm pretty excited about that. Outside of that, though, I mainly stick to racing games and extreme sports.
Jon Robinson: What did you think of how your character looks in the game?
Rickie Fowler: It turned out great. I think the outfits and one of them being all orange was cool. I definitely think the outfits stand out, and if people want to play as me just because of the way I look in the game and because of the colorful outfits, that's fine with me.
ESPN ARCADE
The sequel to our most popular game is here. How's your return?

Run timed routes, beat DB's to the end zone and score.

Hit your receivers, dodge defenders and rack up TDs.