November, 2, 2011
11/02/11
5:22
PM ET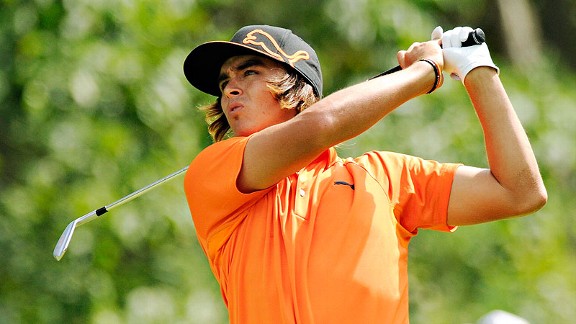 Bob DeChiara/US PresswireRickie Fowler will appear alongside Tiger Woods on the U.S. cover of "Tiger Woods PGA Tour 13."
"Tiger Woods PGA Tour 12" introduced gamers to golfer Rickie Fowler (and his Oklahoma State orange). One year later, gamers voted for Fowler (virtual orange and all) to be on the cover of "Tiger 13" alongside Woods.
"It's unbelievable," Fowler told me over the phone as he stepped off a plane and headed immediately out to play a round. "Starting off last year with my character being introduced in the game, and then this year to be on the cover is just huge. It's a lot bigger deal than just being in the game. And then how they had the fans vote for the cover this year, I didn't want any of my friends to beat me out and hold it over my head, so I had to beat them out and get on the cover."
And beat them out he did, as the 2010 Rookie of the Year earned 52-percent of the final vote to knock off Bubba Watson and orange-out the cover of "Tiger 13."
"I thought I had a fair chance to win, but you never know. Obviously, I had to beat some pretty good guys and I knew Bubba was going to have a strong following and get a lot of votes, but I was hoping to pull it off."
Jon Robinson: Are you a big gamer?
Rickie Fowler: I play a little bit. I always spent a lot of time outdoors, but if it was dark and I had a little free time, I'd fire up my PlayStation. Being involved with golf, the "Tiger" game has always been fun to play and it's been great to see how it has progressed throughout the years. Golf is what I do and it's what I love to do, whether it's in real life or in "Tiger." And now that I'm actually on the cover, I'm pretty excited about that. Outside of that, though, I mainly stick to racing games and extreme sports.
Jon Robinson: What did you think of how your character looks in the game?
Rickie Fowler: It turned out great. I think the outfits and one of them being all orange was cool. I definitely think the outfits stand out, and if people want to play as me just because of the way I look in the game and because of the colorful outfits, that's fine with me.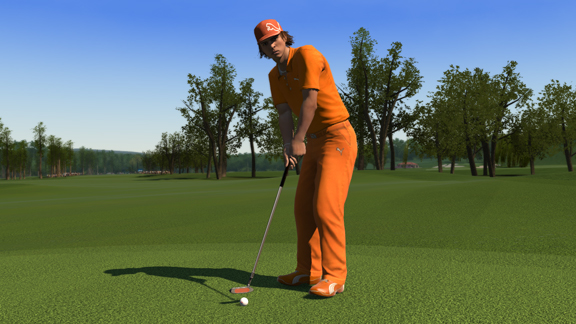 EA SportsRickie Fowler made his debut in "Tiger Woods PGA Tour 12."

Jon Robinson: When you play the game, how accurate do you find the courses compared to what you see in real life?

Rickie Fowler: There are a couple of courses in the game that I play quite a bit, and last year was my first year playing Augusta, then I got to see what they did with it in the game and it was amazing. It was so accurate and they got every minor detail down to the point where it looks like you're watching it on TV, but you're playing a video game. It's an exact replica of the golf course.

Jon Robinson: How big is it to finally have Augusta in the game?

Rickie Fowler: Augusta is the most well-known golf course in the United States, and in the world of golf, it's top three, if not number one. It's an iconic place and to have it in the game, just took the whole game to the next level.

Jon Robinson: What's the best thing about playing golf as yourself in the video game as opposed to playing golf in real life?

Rickie Fowler: I can shoot a lot lower numbers in the video game. Plus, if you hit a bad shot in the video game, it doesn't really cost you anything. In the real world, I'm out there doing it on a daily basis, it's my job, and while I love doing it, it's not easy. In the video game, if you're having a bad day, at least you can just turn it off. [laughs]

Jon Robinson: What do you think is the most difficult aspect of the PGA Tour to capture in a video game?

Rickie Fowler: In a video game, you can get through the course pretty quickly. I don't think people would be interested in playing video game golf for four or five hours just to get through 18 holes. In "Tiger," you can get through a quick 18 with your buddies and still have plenty of time to play another round.

Jon Robinson: How about the trash talking element of playing video game golf against your friends. It's not like the PGA Tour where they make everyone be quiet. In your living room, they're heckling you on every putt. Does it add to the pressure?

Rickie Fowler: If you're talking the PGA Tour versus the video game, yeah, it's different, but when I'm home and at my local club with my buddies, there's plenty of trash talking there. They're doing everything they can to screw you up on every shot you're trying to make. We definitely have a good time out there, and it's the same thing when we're playing the video game. It's just like another casual day out on the course, only now, they might hit your controller.
ESPN ARCADE
The sequel to our most popular game is here. How's your return?

Run timed routes, beat DB's to the end zone and score.

Hit your receivers, dodge defenders and rack up TDs.