November, 3, 2011
11/03/11
2:37
PM ET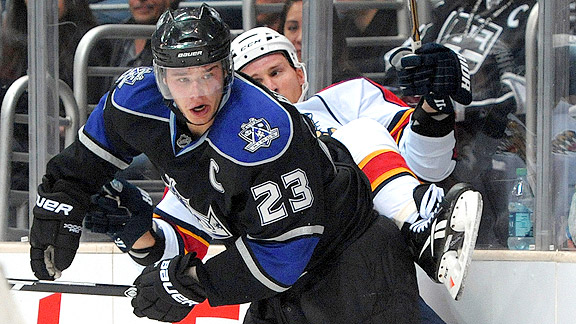 Kirby Lee/Image of Sport/US PresswireWhen Dustin Brown isn't roughing up opponents, he's shooting it out with teammates in "Call of Duty."
Dustin Brown couldn't wait until November 8.
As a self-proclaimed "Call of Duty" fanatic, the Los Angeles Kings star knew that he only had a few days left until "Modern Warfare 3" shipped to stores, but the anticipation of what the new maps and weapons would play like was starting to eat at him.
So Brown, along with teammates Kyle Clifford, Dustin Penner, Drew Doughty, Trevor Lewis and Alec Martinez decided to take things into their own hands. Thanks to the combination of celebrity and close proximity to "Call of Duty" developer Infinity Ward's Southern California offices, the Kings contingent lived every gamer's dream -- studio tour with the world's top gaming minds followed by an advanced gaming session/shootout with "MW3."
"It was awesome," Brown told me upon leaving. "I've been a 'Call of Duty' fan since the very first game. It was amazing to see the various aspects of the studio, from level design to the game testers, it was pretty sweet. We then got the chance to jump in and play some multi-player which was fun.
"This has been my favorite game for a while, and there are a couple of new things with how you can level the weapons that I really like. Overall, it's 'Call of Duty' from Infinity Ward. If you know Infinity Ward, then you'll love this game. They did all these little things to really enhance the game from a weapons standpoint. I don't think I'm allowed to say too much more, but the game is awesome."
Jon Robinson: Besides playing the game, what will stick in your mind most about visiting Infinity Ward?
Dustin Brown: We were walking through an area of the studio where they had all of these mockups on the wall, and one of my teammates thought it was a real picture, but it was a 3-D rendering of a four-man unit. From a few feet away, it looked like a real picture. It was amazing.
Jon Robinson: Is there anything you learned about the process of making a video game that maybe you didn't realize before the trip?
Dustin Brown: It's pretty overwhelming when you go there to see how dedicated everyone is working on the game, and how hard they work on this game for the last nine-to-ten months before it's released. From a gamer's standpoint, you get the finished product and you're like, "Wow, this is great," or you're like, "Man, this sucks," but there's so much work going into these games. Like I said about the rendering on the wall, they do that for every single character in the game. As we walked down the hallway, all you see is picture after picture and every single uniform and weapon. Think about the variables in multi-player. You might have the same looking character, but each person has different weapons and is carrying different items. You get into the details with the Claymores and the C4 package, and you can see how intensive it can get.
Jon Robinson: As a gamer, what is it about the "Call of Duty" franchise that has you hooked?
Dustin Brown: I'm more a multi-player guy, and from a multi-player standpoint, "Call of Duty" is the best. I've played "Battlefield" and "Medal of Honor," and while those games are good as well, "Call of Duty" just has more action and is more in your face. It's a very fast-paced multi-player game. They have tactical games as well, but if you just want to jump in and start shooting, it's very fast-paced and I think the dynamics of the game and the level design is what sets "Call of Duty" apart.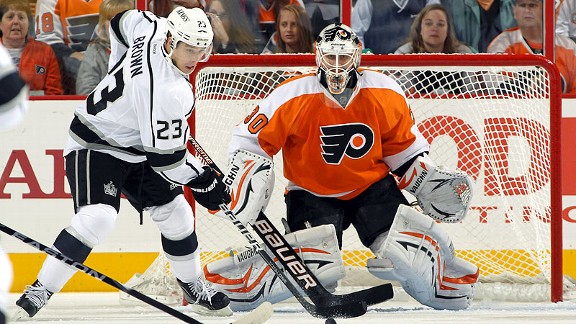 Len Redkoles/Getty Images
Jon Robinson: You brought a bunch of teammates with you to Infinity Ward. Do you guys all play online?
Dustin Brown: Yeah, we all go online with Xbox Live and play. We've all been playing "Call of Duty" together for over a year, so to get the chance to all go up to Infinity Ward and check out the new game early, we couldn't say no. We were all sitting there next to each other, but we were all on different teams, and all you could hear in the room was everyone chirping back and forth. We were playing against the developers of the game. It was pretty fun.
Jon Robinson: How did all of you guys stack up against the developers?
Dustin Brown: I can't speak for everybody, but I was a plus player. I was happy with my performance today, but I think a couple of the guys had a rough go. [laughs]
Jon Robinson: Do you guys usually play before you head out to the ice, or after games as a way to wind down?
Dustin Brown: There are nights after games where I'll play for a couple of hours to wind down. It sounds kind of silly, to wind down playing a video game, but you get home and you're just not ready to go to sleep. So I'll go home, go online, and usually there are two or three other players from the team online, so we'll get going and have some fun. It doesn't matter what time you go on, there's always a game to be played online. When there are a bunch of guys from the team playing all at the same time and we're shooting and talking, that's when you can get lost for hours in the game.
Jon Robinson: How would you rate your aggression level in "Call of Duty" in relation to how you play on the ice?
Dustin Brown: Really similar. I'm pretty aggressive on the ice, and in the video game, once I get used to the map packs and the guns, I like to run around and get the high kill count.
Jon Robinson: Now that you got a taste of the new game, what are you most looking forward to doing once you get the game November 8?
Dustin Brown: Today, I literally just played the multi-player the entire time. There are a lot of changes with the kill streaks and how to level your weapon, and I'm looking forward to setting up my classes and finding out all of the little perks that go along with my style of play. I can't wait.
ESPN ARCADE
The sequel to our most popular game is here. How's your return?

Run timed routes, beat DB's to the end zone and score.

Hit your receivers, dodge defenders and rack up TDs.