November, 23, 2011
11/23/11
4:09
PM ET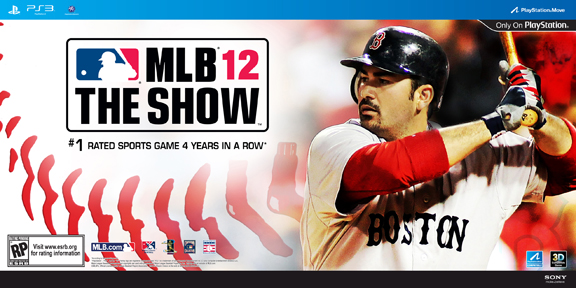 SonyAdrian Gonzalez covers Sony's "MLB 12 The Show."
Looking at the list of "MLB: The Show" cover athletes makes me wonder if the game is really produced in some secret Boston studio as opposed to Sony's San Diego offices. From David Ortiz and Dustin Pedroia to the "MLB 12: The Show" cover star Adrian Gonzalez, there's definitely some Red Sox love coming from the creators of the game.
"It's part of playing for a big market team.," Gonzalez tells me over the phone as we talk Red Sox and video games. "People know who you are, a lot of people watch your games day in and day out. It's a great organization with a lot of history. Sony knows where to go to pick the right players."
And Gonzalez isn't just acting as a spokesman for the game, he's also a fan of the franchise, admitting that he just played three games of "MLB 11" last night against his brother-in-law.
"I played the game all throughout high school, and I still play," says Gonzalez. "I definitely enjoy it, and the ratings say it all: It's the best baseball game out there.
"It's so realistic, and my favorite part about playing is actually seeing all of the little mannerisms they included in the game between pitches. They're dead on, and for me, that's pretty fun to see."
Jon Robinson: As a fan of "The Show" and someone who is featured in the game, what do you think of your character and how he plays?
Adrian Gonzalez: I think he's too slow for what I really am. I wish they would increase my speed a little bit so at least I can steal a few bases. It's almost too realistic because I'd love to be able to steal more in the game than I do in real life. [laughs] Like I said, they just nail so many of the little details, it's amazing.
Jon Robinson: You had a studio tour today where they're making "MLB 12: The Show." Did they give you a quick look at what the new game will look like?
Adrian Gonzalez: No, the game still isn't in that position yet, but from I hear, it's going to be just like it is every year, and that's the best baseball game you can find out there.
Jon Robinson: You play the baseball video games now, but how about as a kid? What were some of your favorite baseball games growing up?
Adrian Gonzalez: I loved playing "RBI Baseball" and "Baseball Stars." Those were fun games, and I still play "RBI" if I ever see it in an arcade. That's one of those games where, if I see it, I have to jump on. Those games are both definitely classics.
[+] Enlarge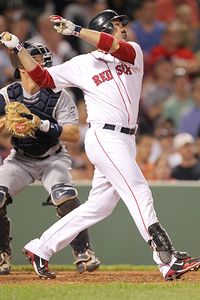 Jim Rogash/Getty ImagesWelcome to "The Show."
Jon Robinson: I always say you can tell a lot about a man by what "RBI Baseball" team is his favorite. Who is your team?
Adrian Gonzalez: I always play as either L.A. or Boston. They actually have the game in the Dodgers clubhouse, so when I was with San Diego, we played it a lot. We used to have little "RBI" tournaments on our team. It was fun.
Jon Robinson: One of the most fun modes in "MLB 12: The Show" is the Road to the Show mode where you start out in the minors and work your way up to superstar status. When you look back to your own Road to the Show, what sticks out about those minor league days?
Adrian Gonzalez: For me, the craziest thing was how much I moved the season prior to me making it to the big leagues. I started off in Triple-A, got sent down to Double-A, then was traded to another Double-A team. From there on it was a roller coaster of moving and moving and moving. It was my first experience of being traded and moving, and I never thought it would be like that. It really just opens your eyes.
Jon Robinson: Sony wants to meet with you on ways to improve the game's scouting. If you gave me a scouting report on how to get your character out in the game, what's your advice?
Adrian Gonzalez: If I was pitching against myself, I would stay down and away and have the ball move away from me. Throw an occasional fastball inside to keep me honest from sneaking out there.
Jon Robinson: Switching things up to the real Red Sox, so much was made of you guys failing to make the playoffs this year and there has been an incredible amount of change surrounding the team in the past few months. From your perspective, what happened?
Adrian Gonzalez: It was definitely tough. It was a tough ending. Hard to swallow. But you have to learn from it and move on and try and change and get better as a team. It's always tough to go out the way that we did.
Jon Robinson: I've heard that people were actually blaming video games as part of the collapse. Were guys playing that much in the clubhouse? What were they playing?
Adrian Gonzalez: You know what, that really wasn't the case. The only guys I saw playing video games were the guys in rehab. It wasn't guys who were actually playing. When you're doing rehab, there's a lot of waiting around, but I think they were playing "Call of Duty."
Jon Robinson: So if I take control of the Red Sox in "MLB 12," how do I help you guys bounce back and win the World Series? Any advice?
Adrian Gonzalez: I would say to just manage us like you would manage a real game. The game is that realistic to where you need to play it like you would a normal game. Get Jacoby on base, steal with him, then put the ball in play and do whatever you can to score that run. Let Pedroia swing for the fences and play good defense like he does, and trust in Josh Beckett and Jonny Lester out there on the mound. Attack hitters like they do. The game is that good where you can play the game like we just hired you as our manager. You never know, we don't have a manager right now. [laughs] Actually, I'm really interested in your job. You play video games and work at ESPN? How can I get that gig?
Jon Robinson: I'd trade jobs with you, but I can't hit a curveball.
Adrian Gonzalez: That's alright, there's times when I can't either.
ESPN ARCADE
The sequel to our most popular game is here. How's your return?

Run timed routes, beat DB's to the end zone and score.

Hit your receivers, dodge defenders and rack up TDs.