November, 11, 2011
11/11/11
1:29
PM ET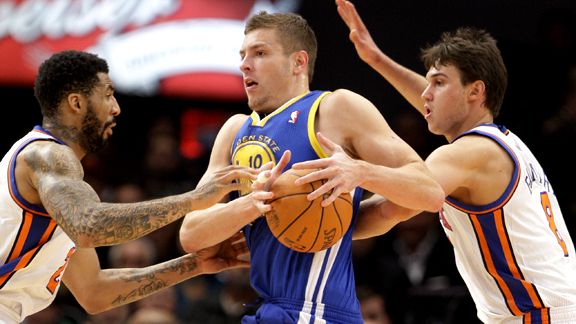 AP Photo/Frank Franklin IIDavid Lee lives to battle, whether it's for the ball or playing "Call of Duty: Modern Warfare 3."
David Lee has been down with video games ever since he first started executing opponents as Cyrax in "Mortal Kombat 3."
So it's no surprise that, on the week of the biggest video game release of the year, Lee is holed up in his home, blasting his friends and Warrior teammates in online shootouts via "Call of Duty: Modern Warfare 3."
"I got into the franchise back when the original 'Modern Warfare' came out," Lee explains over the phone, putting the controller down in order to talk about his love for everything "COD." "When I was on the Knicks, Nate Robinson was on the team at the time, and he his huge into 'Call of Duty.' He has his own crew, his clan, and they are all of his friends from back in Seattle, but these guys are the best. They play about 15 hours a day, and they are simply unbelievable. So I learned from the best.
"To me, playing video games is a way for me to put my feet up and relax during the season. After playing basketball all day, the last thing I want to do is come home and play a sports game. This is a different kind of game to play, and the competitiveness of it is off the charts. The online competitiveness of it is what really draws people in. It's great."
The only problem Lee is having these days, is the fact the Warriors are split down the middle in terms of preferred system. "Steph Curry and half the team like to play of PlayStation 3, but I play with some other teammates on Xbox 360," says Lee. "We need to get this worked out so we can all get on the same system. Last season, a couple of the guys wanted to jump in and play with me, but after a few days they quit because they couldn't keep up. Like I said, I've been playing a long time. This isn't recreation for me. When I play with Nate, we never lost once. It wasn't about me, but his boys are just that good. I remember one game, Nate's friend had 115 kills and one death. I never even thought that was possible. Nate's the same way. He's very, very good."
ESPN ARCADE
The sequel to our most popular game is here. How's your return?

Run timed routes, beat DB's to the end zone and score.

Hit your receivers, dodge defenders and rack up TDs.