November, 14, 2011
11/14/11
7:45
PM ET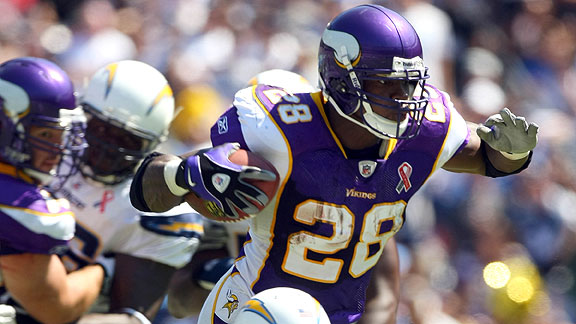 Donald Miralle/Getty ImagesThink Adrian Peterson is cold blooded in the NFL, you should see him play "Assassin's Creed."
While Adrian Peterson's teammates have been holed up in their houses shooting it out with millions of other gamers in "Call of Duty: Modern Warfare 3," the star running back has had his eyes focused on another title: "Assassin's Creed: Revelations."
Peterson has been hooked on the franchise ever since the first "Assassin's Creed" game shook up the action-adventure genre back in 2007, and thanks to appearing in a series of ads for the new game, "All Day" was slipped an early copy of "Revelations" a week before the disc hit stores.
Only thing is, Ubisoft also sent copies of the game to B.J. Raji of the rival Packers, hoping that the two teams would spill a little virtual blood before colliding on Monday Night Football.
Peterson laughs at the notion, telling me that after destroying the Packers in the video game, he's going to find a way to rub it in to Raji and crew on the field.
"Oh yeah, you know I'll find a way to bring it up," says Peterson. "It's us competing against each other in a different form, but if I get the opportunity on the field, I'll bring it up."
Especially since Peterson and his team of Joe Webb and Chris Kluwe (who Peterson refers to as the Vikings "game guru") won their "Assassin's Creed" match-up against the Packers so convincingly.
Says Peterson: "To me, I always think what things would be like to live the life of an assassin. Playing this game, you're able to run away from people and hide in so many different ways, then jump out when they're not expecting it. It's exciting to people like me who sit and ponder about getting into the mind of an assassin. When I play, I like to play real smooth, and I never panic when I run up on my opponent. You'll walk right by me and not even know it until it's too late."
Peterson's favorite part of the game is the cat and mouse stealth aspect of chasing your target across the city and using any means necessary to get close to your prey.
"You can walk around like a priest or a monk and blend in with the other citizens, then get your target out of nowhere," says Peterson. "You can jump off the roof into a bail of hay to avoid capture. This game is just too cool.
"If only I could blend in with the defense (in the NFL) and then run right past them."
ESPN ARCADE
The sequel to our most popular game is here. How's your return?

Run timed routes, beat DB's to the end zone and score.

Hit your receivers, dodge defenders and rack up TDs.