November, 28, 2011
11/28/11
1:09
PM ET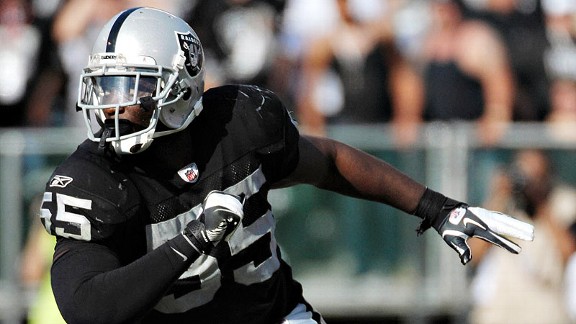 Kirby Lee/US PresswireRolando McClain has serious game off the field, "Call of Duty" game, that is.
When Rolando McClain takes a break from breaking down offensive schemes as the Raiders defensive quarterback, the hard-hitting linebacker hits the sticks with his favorite video game, "Call of Duty: Modern Warfare 3."
"I used to be a big 'Halo' guy at first, but when I got to the Raiders, all of my teammates just loved 'Call of Duty,'" McClain tells me as I get him on the phone to talk "Modern Warfare." "I was stuck in my old 'Halo' ways, but I have to tell you, I've been addicted to "Call of Duty" since the first time I played it. On the Raiders, so many people play, it's all about bragging rights."
McClain used to live in the same apartment complex as fellow Raiders Tyvon Branch and Trevor Scott, and whenever he'd stop by, that's when the "Call of Duty" shootouts would kickoff. "They're the ones who first got me hooked," McClain explains. "I sucked at first, but we played so much, I rose up to the competition and learned how to play.
"The thing about the game is, I can't stand just sitting around and waiting for something to happen. I probably have the most miles ran of anybody in the game because I'm always on the move looking for someone to shoot. We play Team Deathmatch more than anything, and my teammates get mad at me because I'll get a few deaths running into the action, but like I said, I can't stand sitting back and waiting for the action to come to me. I want to be on the attack."
To McClain, the ability to play video games in his free time is something he sees as special. While many kids take for granted the ability to come home and relax with their PlayStations, McClain explains that his economic situation back in the day didn't allow for that. "Growing up, I wasn't as fortunate," says McClain. "We didn't have video games. But now that I'm in the NFL, I'm able to play video games with my friends. It's crazy how things change. Now I have a nephew who is 10-years-old and he has every game possible. When I was a kid, all we could do was play outside. So I didn't even get into video games until I was in college, and I play even more now that I'm in the NFL."
And while McClain stars in "Madden 12," that's one game he never actually plays. "As far as the sports games, I suck at them," he says with a laugh. "I stick to the games I'm good at, like the shooting games.
"Everyone on our team takes a lot of pride in their 'Call of Duty' rankings, so I'm just trying to keep up with those guys. Guys are always talking about their skills in the locker room, saying they're the best in the game. Jarvis Moss talks non-stop when we play. He has his days where he's pretty good, but for the most part, he gets his butt kicked."
As for why McClain traded in his Halo weapons and the life of a Space Marine for the "Call of Duty" Marines, the Raiders linebacker says it comes down to one thing -- realism.
Says McClain: In 'Halo,' you might empty your whole clip into a guy and he might not die. In 'Call of Duty,' you shoot a guy and he's going down. It's not just aliens running around and doing crazy things. 'Call of Duty' is more based on reality. It's based on things you could actually see happen.
"I remember during the lockout, I got carried away playing 'Call of Duty.' I'd sit there for eight or nine hours at a time, get something to eat, and get right back at it. It gets competitive. Sometimes, you just don't want to put the controller down. It is what it is. I just need to keep playing."
ESPN ARCADE
The sequel to our most popular game is here. How's your return?

Run timed routes, beat DB's to the end zone and score.

Hit your receivers, dodge defenders and rack up TDs.