December, 2, 2011
12/02/11
6:30
PM ET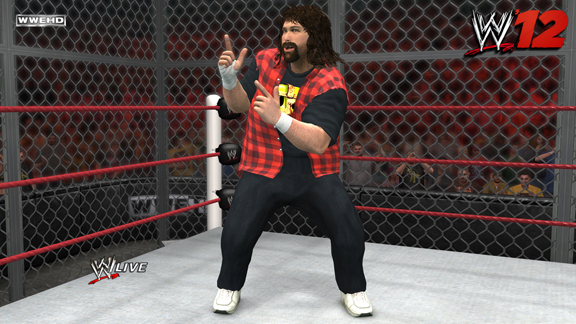 THQBang! Bang! Mick Foley is back in the ring thanks to the new "WWE 12" video game.
About ten years ago, I was sitting backstage at a WWE event when I told wrestling legend Mick Foley how much I loved his Hell in a Cell match against The Undertaker.
"I could watch you get thrown off the top of the cage all night," I joked.
I'll never forget the twisted look in Foley's eyes when I said that. He grinned for a second, then in a tone that seriously freaked me out said: "You're one sick son of a b---h."
So now here I am, almost a decade later, and I get Foley on the phone to talk about his inclusion in the new video game, "WWE 12."
Funny thing is, Foley still remembers the conversation we had back in the day. "You're still sick for loving that match," Foley tells me with a laugh, talking about the devastating bout that made him a household name due to the frightening reality of the violence. From being tossed off the top of the Hell in a Cell roof, to actually being choke-slammed through that same roof only moments later, to the hundreds of thumbtacks that pierced Foley's skin, it's a match that Foley only started to remember recently, piecing moments together in his mind after watching the pay-per-view a short time ago with his family.
"That match is an emotional roller-coaster ride," Foley tells me. "I saw it for the first time in its entirety in about ten years recently because my kids had heard so much about it and wanted to see it. It's one thing to see it in clips and say, "Wow!" But it's something else to watch the entire match and go through that whole experience. It's very emotional.
"I pieced back all of the match in my memory now except for about a 30 second period when I went through the cage and into the ring. There was a point where I saw a pair of sneakers in the ring and I had no idea how they had gotten there. So there were 30 or 40 seconds there that had gone by that I couldn't remember and I'm still not aware of. The day after I had very little recollection of what actually happened."
But that's what being a hardcore legend is all about. Not many guys, if any, could/would take those bumps, finish the match, and then still do a run-in in the show's main event.
"It was perhaps the most pathetic, slowest run-in in sports entertainment history," Foley laughs, "but I still made it out there. I was really hurting. I'm just glad they have that on video because it's not something that I, or anyone else, should ever do again."
Read More »
ESPN ARCADE
The sequel to our most popular game is here. How's your return?

Run timed routes, beat DB's to the end zone and score.

Hit your receivers, dodge defenders and rack up TDs.