December, 5, 2011
12/05/11
2:14
PM ET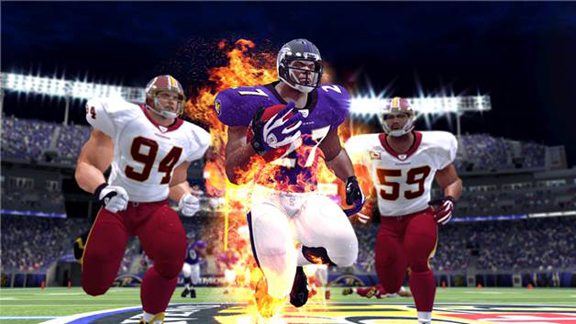 EA SportsRay Rice is not only a "Blitz" fan, he's in the running to be on the game's cover.
Growing up gaming and addicted to "NFL Blitz," Ray Rice used to do something that now, he says, is unthinkable.
"I used to play as the Steelers," Rice admits with a laugh, talking about how his current rival was once one of his favorite video game franchises. "I wanted to play as teams with the best offensive weapons, and back in the old 'Blitz,' Kordell (Stewart) was unstoppable.
"As a kid I remember going to an arcade down in my hometown and me and my boys used to go after it all day in 'NFL Blitz.' 'Blitz' is like the 'NBA Jam' of the NFL. It's exciting, it's a different kind of game, and I remember, even when I bought a copy to play at home, it still made me feel like I was back at the arcade. It's 7-on-7 football, players catching on fire ... all that good stuff you just don't find in other games."
These days, Rice still loves "NFL Blitz," only now it's his character who will burst into flames when the game is available via digital download in January.
Even better, Rice is in the running to be on the game's cover, with fans getting the opportunity to select between Baltimore's electrifying back, Patrick Willis of the 49ers, and Atlanta's Roddy White. Voting will take place live this Saturday night during the Spike TV Video Game Awards, with the winner being announced during the broadcast.
"Everybody wants to see an exciting little offensive player on the cover," says Rice. "No knock on the defensive guys, but I'm young, I'm up-and-coming, and it would be a perfect fit for me, especially since I grew up playing the game."
Read More »
ESPN ARCADE
The sequel to our most popular game is here. How's your return?

Run timed routes, beat DB's to the end zone and score.

Hit your receivers, dodge defenders and rack up TDs.