December, 21, 2011
12/21/11
4:55
PM ET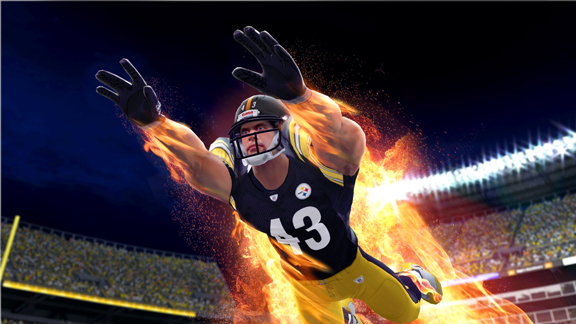 EA SportsTroy Polamalu busts out his best Superman in "NFL Blitz."
The Gamer's "NFL Blitz" roster reveal countdown continues today with a look at the AFC North lineups.
From Troy Polamalu obliterating receivers over the middle of the field to cover star Ray Rice slicing his way to paydirt, this division is packed with players who will look spectacular catching on fire when the game hits January 4.
And in case you missed any of the previous roster updates, be sure to go back and click through the NFC East, NFC North, NFC South, NFC West, and AFC West lineups.
BALTIMORE RAVENS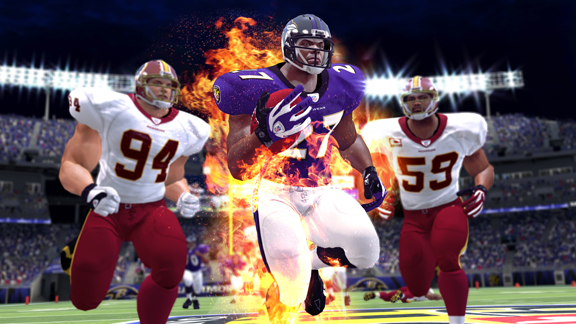 EA SportsRay Rice is not only on the cover of "NFL Blitz," he's a beast in the game.
The Ravens are going to be one of the toughest teams to score on in "Blitz" thanks to Haloti Ngata, Ed Reed, and Ray Lewis. With those three, you have a beast up front, in the middle, and in the secondary, each with the ability to create turnovers and cause havoc. Light the defense on fire, and you'll be lucky not to fumble or throw a pick six. The absence of Torrey Smith hurts the offense in terms of a long-bomb threat, but Ray Rice has the type of speed and versatility you look for in a "Blitz" back.
OFFENSE:
Joe Flacco: QB
Ray Rice: RB
Lee Evans: WR
Anquan Boldin: WR
Bryant McKinnie: OT
Michael Oher: OT
Matt Birk: C

DEFENSE:
Cory Redding: DE
Haloti Ngata: DE
Terrence Cody: DT
Lardarious Webb: CB
Chris Carr: CB
Ed Reed: S
Ray Lewis: LB

SPECIAL TEAMS:
Billy Cundiff: K
Sam Koch: P
ESPN ARCADE
The sequel to our most popular game is here. How's your return?

Run timed routes, beat DB's to the end zone and score.

Hit your receivers, dodge defenders and rack up TDs.