January, 18, 2012
01/18/12
2:29
PM ET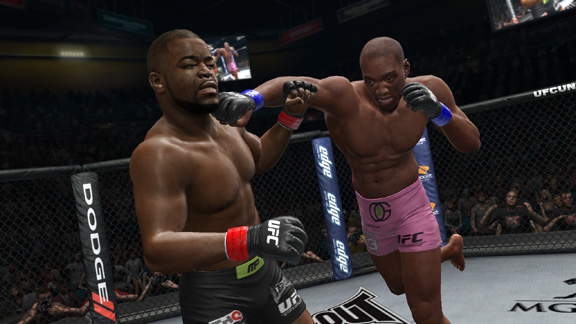 Phil Davis strikes Rashad Evans in "UFC Undisputed 3."
Last time I rooted for someone named "Mr. Wonderful," Paul Orndorff was battling Hulk Hogan inside a steel cage on Saturday Night's Main Event.
These days, there's a new Mr. Wonderful kicking ass on pay-per-view, only difference is, Phil Davis doesn't need to climb his way out of a cage in order to chase his championship, although I'm sure many of his opponent's wish there was an escape hatch inside the Octagon once the kid with the pink tights locks on his anaconda choke.
"ESPN pays you to play video games? The UFC pays me to beat people up," Davis jokes when we meet. "I'd love to have your job. I'm a huge gamer."
So huge, that when I tell him he's going to be a video game character in the upcoming "UFC Undisputed 3," one of the biggest grins I've ever seen overtakes Davis' face and he starts pumping his hammer-like fist in celebration.
"I think we need to add a clause in the game that if you play as me, you need to win. Even if it's a child playing as me, you better let that child win," Davis tells me with a laugh. "I think if you're going to use my character, you better do at least 12 minutes of training in the game every day in order to learn my moves so you don't lose. It's time to get serious people, 12 minutes a day is a must."
ESPN ARCADE
The sequel to our most popular game is here. How's your return?

Run timed routes, beat DB's to the end zone and score.

Hit your receivers, dodge defenders and rack up TDs.