February, 2, 2012
02/02/12
3:44
PM ET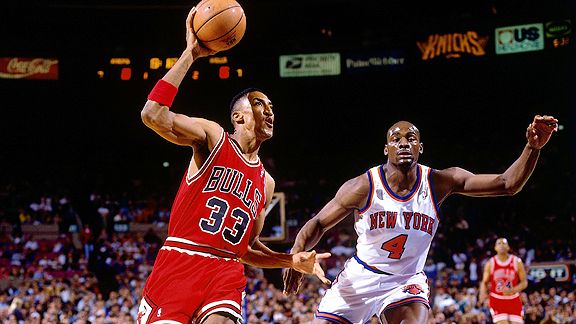 Nathaniel S. Butler/NBAE/Getty ImagesScottie Pippen is one of the featured legends in "NBA 2K12."
With the NBA back in full "I'm going to dunk on you and have my agent turn it into a YouTube video" mode, more and more gamers are going back to "NBA 2K12" and playing through the season that almost never was.
And while "2K12" features an array of legendary teams that you can battle against in "NBA's Greatest" mode, the game also boasts a cell-shaded downloadable feature entitled "NBA Showcase" where you can play one-on-one, two-on-two and even three-on-three showdowns pitting legendary players like Michael Jordan and Scottie Pippen against some of today's best ballers to see who would win in a street game of pickup hoops.
Bulls (and "NBA 2K12") legend Scottie Pippen not only thinks Chicago should win every one of those battles, but he also sees the video game as a way to re-live what it was like when he was in his prime.
"It's great to see how they created me in the game," Pippen said. "It's like I get to reach back into my youth a bit and see what it was like when I was younger. As a player, I never appreciated the video games as much as I do now that I'm not playing. It enables me to look back at my career in a unique way and replay some of those exciting moments from my memory."
Jon Robinson: "NBA 2K11" was all about Michael Jordan, but in "2K12," they picked 15 legends who they thought were the most influential players in NBA history and featured them in the game. What do you think of being selected in that group of influential athletes?
Scottie Pippen: As a player, you never prepare for anything like that. You just go out and try to always play at your best. But I appreciate all of the accolades and honors and respect that fans and now 2K has given me. It's a great honor when you're mentioned as one of the top legends in the video game. I can be 60 years old, but I can always go back and play like I once did by just playing a video game. It's really great.
Jon Robinson: You're actually one of the best video-game athletes of all time dating back to the Sega Genesis. Do fans ever mention to you how dominant your character has been in everything from "Bulls vs. Lakers" to "NBA Jam"?
Scottie Pippen: Yeah, a lot of people tell me that. They used to come up to me and tell me how they'd trade me to their favorite teams. I truly appreciate my legacy in the games, and it's amazing to see how games have changed from those first few I was in up to "NBA 2K12." All of the content that they have added throughout the years is amazing, and the way they still represent us today just really blows me away.
Jon Robinson: What do you think of how your character looks in the 2K games?
Scottie Pippen: I think they made me play like I did, but they could have made me look a little better. [Laughs.] They need to tighten up my hair a bit.
Jon Robinson: One of the debates "NBA 2K12" stirs up is about which NBA team is the greatest of all time. When you look back, what one team do you consider the best?
Scottie Pippen: It has to be the '96 Bulls. We were a very hungry team. We hadn't won the championship in a few years, and we wanted to prove to everyone that we could win. Then we brought Dennis [Rodman] in, and it really solidified that we could be the best team if we just all went out and played like we knew that we could. And we had a lot of great players, guys like Toni Kukoc, who all had unique skills. It was a really great group of guys.
[+] Enlarge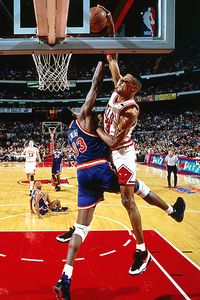 Nathaniel S. Butler/NBAE/Getty ImagesScottie could hit the trey or throw it down. Just ask Patrick Ewing.
Jon Robinson: So when I turn on "NBA 2K12" and play as the Bulls right now, who do you want me to dunk on for you? Should I go after Ewing or the Bad Boys?
Scottie Pippen: I think you should go after the Bad Boys. I already dunked on Patrick Ewing enough.
Jon Robinson: There are no flagrant fouls in the game, though, so the Bad Boys can only be so bad.
Scottie Pippen: I would actually be interested in seeing how that Detroit team would match up against some of the current teams. That's one of the things that most intrigues me about the game, how you can do that comparison between eras.
Jon Robinson: When you watch the current-day NBA, what's the biggest difference in the game that you notice between now and your era?
Scottie Pippen: The physicality. People were a lot more physical, fouls were more physical and the lane was truly sacred in terms of the defense. From early on in basketball, it was a cardinal sin if you let a guy drive through the lane and get a layup. He could shoot two free throws, but you weren't letting him get that layup. That's what that Pistons team established. It was the blueprint that you had to use in terms of winning a championship. You could not give up easy shots.
Jon Robinson: Now if there's one hard foul, people are calling for suspensions.
Scottie Pippen: Yeah, and back in the late '80s and early '90s, there was a lot more physical play, and guys really prepared themselves to give it as well as take it.
Jon Robinson: So when 2K gets ready to make a game in 20 years, what current players do you see who will break through and be on the list of 15 most influential legends?
Scottie Pippen: There are some tremendous players out there. Kobe Bryant will be on that list for sure. I can see Tim Duncan making the list, as well. There are a lot of great players out there who 20 years from now will still have their names in the video games.
Jon Robinson: When you watch Kobe play, does he remind you of Michael at all?
Scottie Pippen: I have to say yes to that. I think he reminds a lot of people of Michael because he molded his game after him. He seems to have a lot of Michael's charisma, and it comes across in the way he walks, the way he talks and especially the way he plays.
Jon Robinson: So for kids who pickup "NBA 2K12" but never saw you play live, what are you hoping they learn about Scottie Pippen by playing the game?
Scottie Pippen: I hope they learn that I was an all-around player who tried to do everything. I hope they respect the way that I played, and that I played the game the right way.
ESPN ARCADE
The sequel to our most popular game is here. How's your return?

Run timed routes, beat DB's to the end zone and score.

Hit your receivers, dodge defenders and rack up TDs.