January, 16, 2012
01/16/12
2:58
PM ET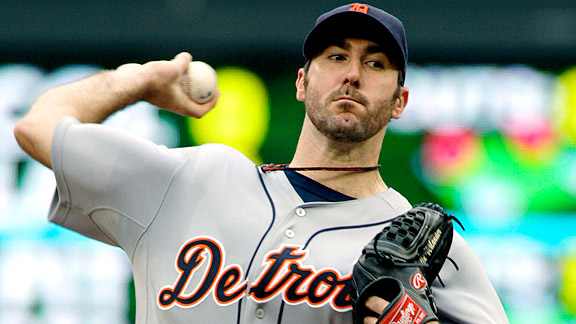 AP Photo/Paul BattagliaJustin Verlander is here to offer gamers advice on how to win the million-dollar prize.
Play a video game, win a million bucks.
Sound too good to be true? Well, it isn't, as 2K Sports is back offering $1 million to the best "MLB 2K12" player on the planet.
This is the third year in a row 2K is offering the eye-popping prize, but the competition has changed dramatically this time around.
First off, it's no longer the first person who throws a verified perfect game that takes home all the loot. For "MLB 2K12," the competition to throw a perfect game will last from April 3 through April 30, with the top eight perfect game performances being ranked on an overall leaderboard based on difficulty. Gamers will earn points depending on the pitcher who throws the perfect game (earn more with Barry Zito than say, cover athlete Justin Verlander), as well as the team you throw the perfect game against (blanking the Yankees lineup will score higher than blanking the Astros).
Best of all, gamers no longer need to videotape the perfect game in order to prove your skills. Now, all you do is play in "Perfect Game Challenge" mode, and once the final out is recorded, a code will pop up on screen that you then enter on 2K's contest site, and you're good to go.
When the top eight performances are ranked, those gamers will then be flown to New York for a single-elimination tournament where the player who emerges victorious takes home the million bucks.
"I never thought you could get rich playing a video game," says "MLB 2K12's" cover athlete, Justin Verlander. "This is something that's definitely unique, and I'm proud to be a part of it."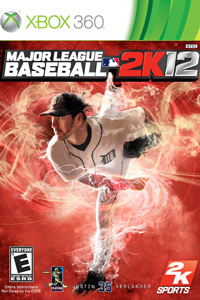 2K SportsVerlander covers "MLB 2K12."
So proud, in fact, that Verlander wanted to give advice to ESPN readers on how to prepare for video game perfection (and a million dollars).
"First and foremost, you have to remember that this is a game," Verlander says. "I actually need to remind myself of that in real life a few times a year, that I'm playing a game, even if it is on a bigger stage. So the first thing you need to do is go out and have fun with it and try not to get frustrated. I know that's easier said than done, but in the video game, you always have the opportunity to try again.
"That's the biggest difference between the video game and real life. In 'MLB 2K12,' if things aren't going your way, you can just restart your game. In real life, I have to wait five days, which is not quite as fun."
ESPN ARCADE
The sequel to our most popular game is here. How's your return?

Run timed routes, beat DB's to the end zone and score.

Hit your receivers, dodge defenders and rack up TDs.