January, 26, 2012
01/26/12
1:04
PM ET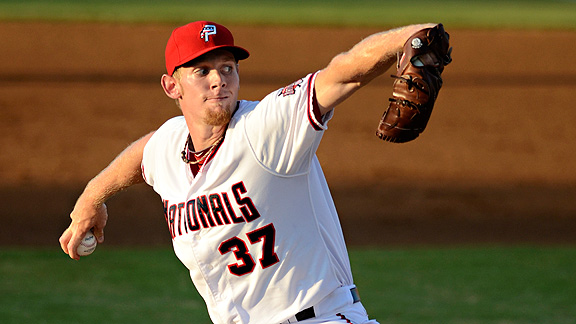 Scott Ryan/Diamond Images Stephen Strasburg is as competitive playing video games as he is on the mound.
Stephen Strasburg boasts some of the nastiest pitches in all of baseball.
Then again, his video game character might have even nastier stuff, as the phenom's virtual doppelganger actually debuted back in "MLB 2K10" with a higher player rating than more established hurlers like Cole Hamels and Roy Oswalt, making him the most dominant rookie pitcher in the history of baseball video games.
Paint a 100 mph fastball on the outside corner? No problem. Just be sure to follow it up with a lethal curve that almost spins the batter out of his virtual cleats.
"I have no complaints," Strasburg tells me with a laugh when I bring up his character's ability to make hitters look foolish in the game.
And with "MLB 2K12" hitting stores March 6, the kid who hits triple digits on the radar gun is hoping someone uses his character to win this year's million-dollar, perfect-game challenge.
That's right, throw a perfect game in "MLB 2K12" and it could be worth a cool mil.
"I never thought a video game could make you rich," Strasburg says with a grin as we talk about the competition. "I remember playing 'Triple Play 2000' and thinking how realistic I thought the graphics looked. Now it looks like you're controlling real people. And even better, now if you prove you're the best at this game, you're going to get paid."
And if you play as Strasburg in "2K12," the Nationals star has some advice: "Just like real life, you can't just stick to the heaters. Guys will catch up to that sooner or later," he says. "You need to go out there and use all your pitches, and remember to be aggressive with the first pitch. You want to throw a strike and get ahead of the batter early to swing the advantage in your favor.
"A lot of it is changing speeds, but a lot of it is knowing the scouting reports and knowing what a guy likes to hit in certain counts, and what a guy is not really good at hitting in other counts. As far as knowing the hitter you're facing, that's just so important, because as a pitcher, you want to go out and throw the pitch that he likes the least."
ESPN ARCADE
The sequel to our most popular game is here. How's your return?

Run timed routes, beat DB's to the end zone and score.

Hit your receivers, dodge defenders and rack up TDs.