February, 27, 2012
02/27/12
4:58
PM ET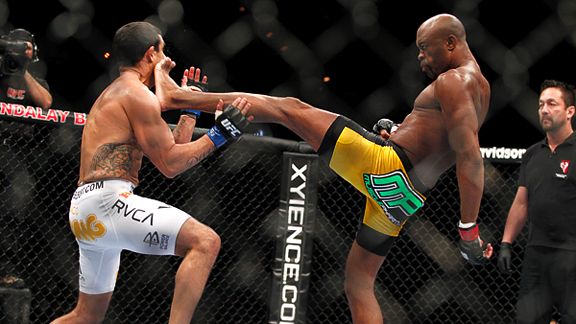 Ric Fogel For ESPN.comAnderson Silva stars in "UFC Undisputed 3," front kicks and all.
When Anderson Silva fights, it's like my eyes are addicted to his every move.
Think he's going right? Boom! Left foot to the face.
Think dominating four rounds has him beat? He makes you tap in the fifth with the triangle armbar.
Silva is the greatest fighter of his generation, and arguably the greatest mixed-martial artist to ever step foot in any ring or octagon, but when I tell him he's like the Michael Jordan of UFC, Silva's humility is almost staggering.
"No, there's no comparison," he tells me over the phone as we talk MMA, video games, and dream fights. "Michael Jordan is too big to compare to."
Then again, with Silva now sporting the same swoosh Jordan helped make famous, it's the "Spider" who is the poster boy for his sport, hooking hardcore and casual fans alike with hit after hit from his potent arsenal.
And as humble as he likes to carry himself outside of the octagon, inside, he's the closest thing we've seen to Muhammad Ali since "The Greatest" injured a stone, hospitalized a brick, and showed the world he was so mean, he could make medicine sick.
It's no surprise, then, that Silva recently won a fan vote against an array of champions to appear on the cover of the new video game, "UFC Undisputed 3." An honor that Silva tells me, was unexpected, especially competing against popular fighters like Georges St-Pierre, Jon Jones, and Cain Velasquez.
"I loved the idea of the vote, but I was definitely surprised," says Silva, who is actually a big gamer, claiming the PlayStation 3 as his system of choice. "When you look at the game, they did an excellent job capturing the way I move. THQ did an excellent job in capturing me in the game."
But what does Silva love best about the new UFC game? "I love all the Pride rules," he tells me, as for the first time ever, THQ incorporated the old-school Pride fighters and rules into the game. "The only problem with Pride was guys would try to slip through the ropes to escape. But other than that, I love Pride rules."
Read More »
ESPN ARCADE
The sequel to our most popular game is here. How's your return?

Run timed routes, beat DB's to the end zone and score.

Hit your receivers, dodge defenders and rack up TDs.