March, 21, 2012
03/21/12
2:34
PM ET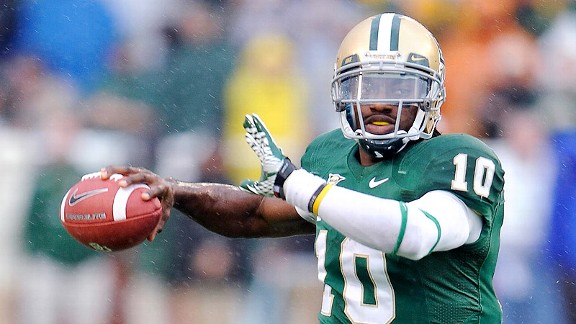 Jerome Miron/US PresswireRobert Griffin III could be the best rookie in the history of "Madden."
Robert Griffin III might end up being the most dominant video game quarterback since Michael Vick.
Don't believe me? Check out what "Madden" ratings guru Donny Moore had to say when I asked him about RG3: "We could be looking at the best rookie in the history of 'Madden,'" said Moore. "It's all about speed in people's minds, and the way RG3 runs, and with his arm strength, he's going to be one of the most fun characters to play as this year."
I tell RG3 about Moore's comments, and the quarterback can't help but grin. "That would be awesome if the 'Madden' guys do that for me," he said. "Sometimes they don't do that for rookie quarterbacks, but with the way I played last year and with the way I performed at the combine, that should shoot my ratings straight through the roof. I'm excited to see my guy in the game.
"I know I have a strong arm, I'm accurate, and my awareness is pretty high out there. My speed will probably be 95 or above and that's pretty sweet. Not many guys can do that, so that's really exciting. From there, I just want to work on getting my speed up to 97 or 98 in 'Madden.'"
But Griffin has more to celebrate these days than a stud "Madden" character as the charismatic Heisman Trophy winner will also be appearing on the cover of EA's upcoming "NCAA Football 13."
Added Griffin: "Fans are going to be able to vote on March 12 for a former Heisman winner to be on the cover along with me. Guys like Herschel Walker, Doug Flutie, Barry Sanders, and Marcus Allen. These are all great players who have all done a lot more than I have, and it's up to the fans to decide what the final cover will look like.
"But my favorite part of the cover so far is how my image shows me throwing the ball. I wanted to emphasize that I'm a quarterback who is also a strong athlete. So me throwing the ball on the cover is only that much sweeter."
Jon Robinson: It seems like your name is all the buzz from the combine this year. Did you accomplish everything you wanted from the event?
Robert Griffin III: It's a job interview and you just try to put your best foot forward. People have said some really good things about my performance, and that's what I'm happy about, what I'm excited about. I was able to go out there, and like I said, I put my best foot forward.
Jon Robinson: Your best foot forward was actually some incredibly fast feet.
Robert Griffin III: [laughs] They have the official time at 4.41, but we're working with the NFL to try and get that adjusted because our on-the-field time was a bit faster than that. At the end of the day, if the 4.41 is the time I get, then I'm not disappointed by that at all, but if we can get the time adjusted to the real time, that would be great.
ESPN ARCADE
The sequel to our most popular game is here. How's your return?

Run timed routes, beat DB's to the end zone and score.

Hit your receivers, dodge defenders and rack up TDs.