March, 14, 2012
03/14/12
5:27
PM ET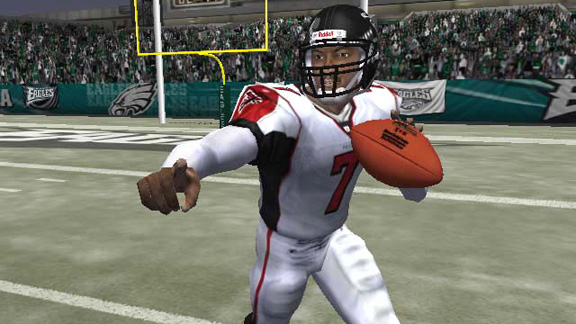 EA SportsWhen it comes to the greatest player in "Madden" history, Michael Vick is the clear No. 1.
Michael Vick is to "Madden" what Bo Jackson is to "Tecmo Bowl."
A level of domination so extreme, so in-your-face, that you can't think of the game without the virtual athlete attached.
Same goes for Tom Chambers dunking from the 3-point line in "Lakers vs. Celtics" and Jeremy Roenick's absurd ability to make little Wayne's head bleed in "NHL."
So it got me thinking: With the "Madden NFL 13" cover vote now under way, not to mention, my obsession with athletes I can mute, reset, and edit to my liking, if I had to put together an all-time team of "Madden" athletes, a team of the greatest virtual ballers this side of Bo and LT from "Tecmo Bowl," who would make the cut?
To help me out with this squad of superstars (and seriously overrated not-so-superstars who played like Hall of Famers for at least one year in the video game), I went straight to the source, enlisting the help of some of the brains behind the "Madden" franchise throughout the years.
So I flew out to the "Madden" game factory in Maitland, Fla., for the day, and picked the brains of Donny Moore ("Madden" ratings guru), Anthony Stevenson (marketing director), Larry Richart (central gameplay designer) and Michael Young (creative director), to get their thoughts on the greatest virtual athletes of our time.
Here's the team we came up with:
QB: MICHAEL VICK -- "Madden NFL 2004"
I think it's safe to say that more money changed hands in underground "Madden" tournaments based on Michael Vick from "Madden 2004" than any other player in the history of the franchise. "We've never had a quarterback that fast before," says Moore. "He had 97 throw power and 94 speed and with Playmaker ability, the game was tuned specifically for Michael Vick."
"The guy broke the game," adds Stevenson. "There was a lot of talk last year when we were doing the cover vote of why he was in the vote. He's a polarizing guy, so a lot of people were surprised at how easily he was breezing through the vote. I think part of it is because the video game version of Vick almost has more of a history than the real quarterback. Without fatigue, you could just run him back and forth, back and forth, back and forth, and nobody could stop him. I think if you ask any 'Madden' fan who is the best, they'll all say the same name: Michael Vick."
And don't forget about: PEYTON MANNING -- "Madden NFL 06"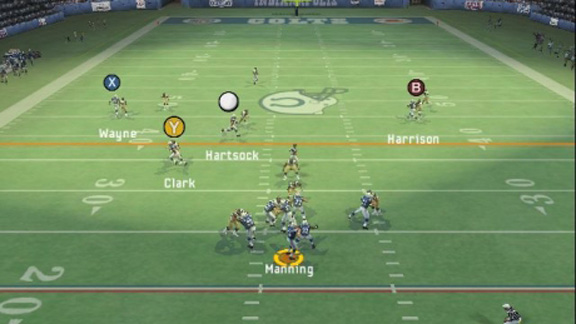 EA SportsPeyton Manning's vision cone enabled him to see every receiver instantly.
Remember the ill-fated quarterback vision cone? While some players had only a sliver of vision in their passing window, Peyton Manning could see the entire field from the moment he had the ball. Says Richart: "Every other quarterback in the game, you had to worry if you had enough time to throw the ball, but since you could see the whole field with Manning, and he had such high accuracy ratings, you could just pinpoint your throws all the way downfield."
HB: MARSHALL FAULK -- "Madden NFL 2003"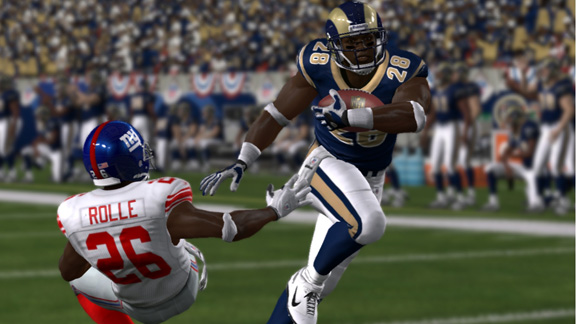 EA SportsMarshall Faulk is such a "Madden" legend, EA Sports even brought him out of retirement for "Madden 12."
When Marshall Faulk was on the cover of "Madden NFL 2003," he was so dominant you'd think he helped design the game. "It wasn't just his running ability, but it was the way he caught the ball out of the backfield," says Young. "With Kurt Warner and Faulk, that was a duo you could destroy people with."
"Before we fixed the routes out in the flats, Marshall would be my leading rusher, my leading receiver, and my leading everything," says Stevenson. "He was that good."
And don't forget about: REGGIE BUSH -- "Madden NFL 07," BARRY SANDERS -- "Madden 2000"
When Reggie Bush debuted in "Madden 2007" with the unprecedented rookie rating of 87 overall, he helped the Saints become one of the most played teams in the game. His amazing speed and ability to juke defenders out of their virtual cleats instantly became the stuff of legends.
Speaking of legends, Barry Sanders was so unstoppable in "Madden 2000," the electrifying runner tells me that fans still come up to him and want to talk about his character in the game. Says Sanders: "You always run into people who want to talk about some of the things you've done in 'Madden,' and they talk about it like it meant as much as something I did for real, so it's pretty funny."
Adds Stevenson: "Barry was so elusive, we even had commercials with him, the 'shake-shake-shake, Barry' ads that were really funny. You can never go wrong playing with Barry."
FB: MIKE ALSTOTT -- "Madden NFL 2000"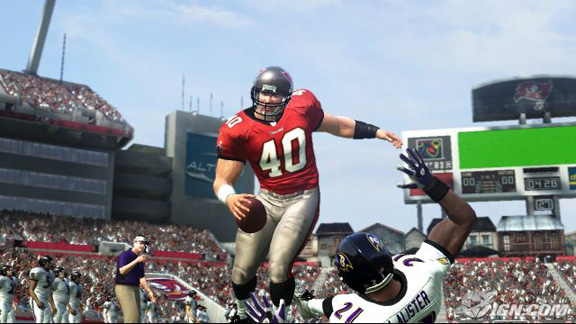 EA SportsBoom! Where did that bus come from?
Back in "Madden 2000," Alstott was actually rated 100 overall. "He was unstoppable on fullback dives and around the end zone," says Richart. "He would slam his way up the middle and all the defenders would just bounce right off of him."
And don't forget about: MARCEL REECE -- "Madden NFL 11"
One of the deadliest weapons in "Madden 11," Reece had 90 speed from the fullback position, and would catch just about anything thrown to him out of the backfield. Talk about a matchup nightmare.
TE: ANTONIO GATES -- "Madden NFL 10"
If you're a fan of throwing the ball to the tight end, you've been playing a lot of "Madden" the past few years as the Chargers. Gates has been one of the highest overall rated players in the game since he first started dominating the league, and once he catches the ball, he's a load to bring down.
But get ready for: Jimmy Graham and Rob Gronkowski in "Madden NFL 13," as according to Moore, "While Gates has been amazing, I think next year everyone is going to be talking about Jimmy Graham and Rob Gronkowski. I can already tell you that Gronk is going to be a dominant force in 'Madden 13.' He adds that blocking ability Gates doesn't provide, so Gronk is going to be rated really, really high heading into next season."
WR: RANDY MOSS -- "Madden NFL 10," BRIAN FINNERAN -- "Madden NFL 2004"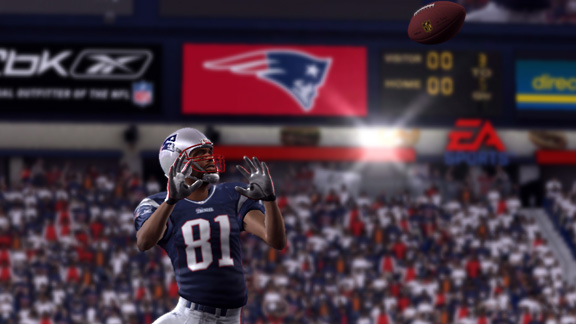 EA SportsRandy Moss from the Vikings, or Moss as a Patriot ... who you got?
If EA Sports opened up a "Madden" Hall of Fame, Brian Finneran would be a first-ballot inductee. "We had to change the game because of him," says Moore. "We didn't want to be known as the game Brain Finneran dominated." The thing about Finneran was, not only did the game give him insane leaping ability via the Rocket Catch, but his character was significantly taller than any DB in the game, giving Vick the ability to throw the ball high, with Finneran making the grab every time in traffic. Adds Moore: "He had 90+ jump, plus he was so tall, it didn't matter how you tried to defend it, Finneran was coming down with that ball."
Other than Finneran, the debate raged whether you were a Randy Moss fan back in his days of the Vikings (and the rocket catch), or more recently with the Patriots (and Tom Brady). Says Stevenson: "I prefer him with the Patriots simply because as our wide receiver interactions became better and we added the spectacular catch rating, it allowed you to do more. With his leaping ability and hands mixed with the throwing accuracy of Tom Brady and his deep ball, the only combination that has ever rivaled it in our game is that Vick-to-Finneran combination."
And don't forget about: JERRY RICE -- "Madden NFL 98"
While all the debate these days is who should have a 99 overall rating, Jerry Rice once had a player rating that only the G.O.A.T. could boast about: 189. That's right, back in "Madden 98" Rice had the highest player rating in the history of the franchise at 189 overall. No wonder I threw 48 touchdown passes to him playing through a season as the 49ers that year.
OL: STEVE HUTCHINSON -- "Madden NFL 2007," WALTER JONES -- "Madden NFL 2007," ORLANDO PACE -- "Madden NFL 03"
When it comes to running the ball, Marshall Faulk is the all-time best, and part of it was because of the beast-like blocking ability of Orlando Pace. "The Pace/Faulk combo was just dirty," says Moore. "Then you have guys like Hutchinson and Jones in 'Madden 07,' the guys who helped Shaun Alexander get the cover, and we had the blocking dynamic in the game that just made those guys unbelievably powerful."
And don't forget about: JONATHAN OGDEN -- "Madden NFL 2005"
Jonathan Ogden was rated 99 overall across three different games, using his size to pancake defenders the way Ray Lewis used the Hit Stick to destroy the offense.
DL: BRUCE SMITH -- "Madden '92," DWIGHT FREENEY -- "Madden NFL 07," WARREN SAPP -- "Madden NFL 2002"
Dwight Freeney's freakish combination of speed and power made him one of the most terrorizing defensive players to ever step foot on a virtual field back in "Madden 07." "He was so incredibly fast, you just couldn't defend him," says Stevenson. "Everyone on defense likes to play different positions, but I like to play as the defensive line and play for the pass rush. Sometimes it's hard to get those sacks, but Freeney's character not only had the speed, but the ability to do those swim moves, and he could beat any blocker in the game."
Before Freeney, it was Bruce Smith, who, for whatever reason, was actually the fastest player on the field back in "Madden 92." No wonder they needed an ambulance to clean up the broken quarterbacks.
"My favorite, though, was Sapp back in 'Madden 2002,'" adds Richart. "He was playing defensive tackle, but we had him rated as fast as the defensive ends in the game. None of the tackles was even close to his speed."
And don't forget about: JAMESON KONZ -- "Madden NFL 12"
If you don't know the name Jameson Konz, you need to start playing as the Seahawks. "He's 'Madden 12's' secret weapon," says Moore. Konz is a tight end who the Seahawks turned into a defensive end, giving him 90 speed and 90 jump while rushing the passer. Talk about an amazing sleeper pick for your franchise fantasy draft.
LB: RAY LEWIS -- "Madden NFL 2005," PATRICK WILLIS -- "Madden NFL 12"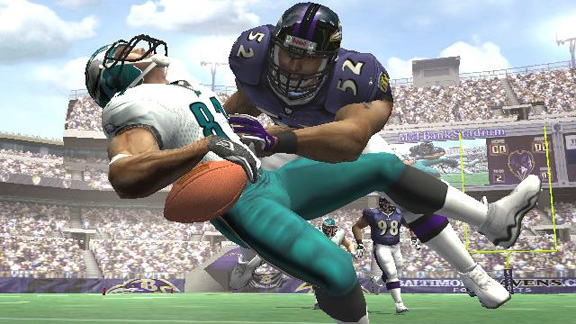 EA SportsThe Hit Stick was made for players like Ray Lewis.

"Madden NFL 2005" was designed around defense, adding the Hit Stick into video game vocabulary, and making Ray Lewis the most feared video game linebacker since Lawrence Taylor in "Tecmo Bowl." A slight notch below Ray is Patrick Willis from "Madden NFL 12." Says Moore: "There are only a few linebackers who have ever had 90 speed in the game, and no other linebacker has had such high marks across the board, from tackling to pass coverage skills, as Willis. That's why he's 99 overall. He's on a fast track to the Hall of Fame if he keeps this up."

And don't forget about: FRANKIE NAX -- "Madden NFL 2003"

Don't recognize the name? That's because Frankie Nax is the greatest EA Sports-generated player in the history of "Madden." Explains Richart: "If you play franchise, you know Frankie Nax. He was one of those draft-generated names, but basically, he was a bigger, faster Ray Lewis. He came in as a 95 overall as a rookie and was the greatest linebacker in the history of the world. I don't know if it was a bug or what, but he was in everybody's game, you just had to know to look for him."

CB: DEION SANDERS -- "Madden NFL 99," CHAMP BAILEY -- "Madden NFL 2005"

Deion is the only player in "Madden" history to be rated a perfect 100 for two straight games, and he had the type of speed to bring any pick back to the house. "'Madden' is a game where speed is even more important than it is in real life," says Young. "And Deion just blew past everybody in our game, whether it was on an interception or during a return. I used to play 'Madden' just so I could play with Deion."

And don't forget about: DOMINIQUE RODGERS-CROMARTIE -- "Madden NFL 11"

Says Moore: "Based on his speed and jumping ability, Rodgers-Cromartie was a game changer, especially with his height at corner. Just don't ask him to tackle anybody in the game, he'll get run over."

S: ED REED -- "Madden NFL 2006," BRIAN DAWKINS -- "Madden NFL 99"

Ed Reed is one of those guys who was 99 overall for years, and with his ability to force interceptions thanks to being one of the rare players to have 99 zone rating, the Ravens safety has long been a favorite in the "Madden" community. Says Stevenson: "Then once you intercept the ball, he's a threat to score at any moment. Ed Reed is one of those guys who has been so good for so long, you almost take him for granted."

And don't forget about: SEAN TAYLOR -- "Madden NFL 2006"

Another favorite is the late, great Sean Taylor. Talk about the type of player the Hit Stick was designed for. "Sean Taylor was ridiculous in the game," says Moore. "His hit power was 97, he had great jumping ability, great speed, and he was great at intercepting the ball. Sean Taylor was the prototype safety in the game."

K: ADAM VINATIERI -- "Madden NFL 2004"

Nothing like a 99-rated kicker to boot the game-winning field goal for you as time ticked to zero. Vinatieri's accuracy in the game was simply amazing.

And don't forget about: MASON CROSBY -- "Madden NFL 11"

With 98 kick power, Crosby could consistently hit 60-yard field goals. "Crosby was just unreal from long range," says Richart. "I don't think there's ever been a kicker in 'Madden' who could consistently hit more long-distance field goals."

P: SHANE LECHLER -- "Madden NFL 12"

Ever wonder why elite punters never had a high rating in "Madden"? Ratings guru Donny Moore breaks it down: "The funny thing is, we couldn't put a punter at 99 overall because of franchise mode. The way the logic worked in the franchise draft, if you had a punter at 99 overall, you would have a team spend a fifth- or sixth-round pick on Shane Lechler. So no matter how good of a punter you were, we would artificially need to keep your rating down. It sounds silly, but that's just how it was. We finally fixed the logic, so now Lechler is where he belongs at 99."

KR/PR: DEVIN HESTER -- "Madden NFL 08"

100 speed. Enough said.

And don't forget about: DANTE HALL -- "Madden NFL 2004"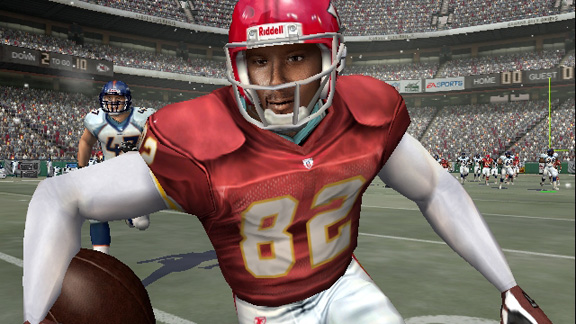 EA SportsDante Hall was once one of the most feared return men in "Madden."
What video game countdown would be complete without a guy they used to call "The Human Joystick"? Dante Hall is the reason kids learned to punt out of bounds.
ESPN ARCADE
The sequel to our most popular game is here. How's your return?

Run timed routes, beat DB's to the end zone and score.

Hit your receivers, dodge defenders and rack up TDs.