March, 31, 2012
03/31/12
11:13
AM ET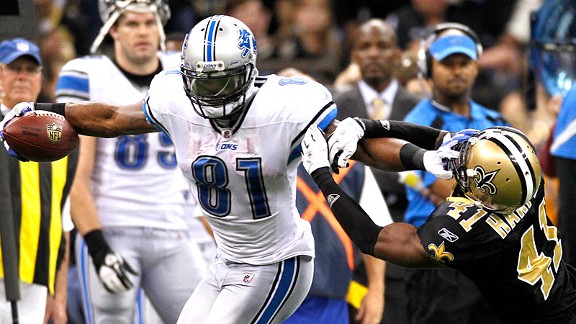 Derick E. Hingle/US PresswireMegatron on the cover of "Madden 13"? It could happen.
Is there a favorite to win the "Madden NFL 13" cover vote?
Looking at the numbers, I'd say there are two: Cam Newton and Calvin Johnson.
After two rounds, Cam has received more votes than any other player in the tournament, with Megatron a close second.
But I also wouldn't count out guys like Victor Cruz or Rob Gronkowski, as both of these players seem poised to pull off an upset or two on their way to the cover.
Then again, you never know whose fans will step up and ignite an online campaign to push them through to the finals. Last year, Peyton Hillis almost lost in the second round, then out of nowhere, his numbers started to explode thanks to various online campaigns from both the Browns and a few social media-savvy superfans who wanted to see their favorite bruising back finally get the glory (even if the "Madden" curse seems to already have crushed his career).
And with the round of 16 kicking off Wednesday over at SportsNation, here's a look at this week's matchups:
THE CAM NEWTON IS A MONSTER BRACKET
(1) CAM NEWTON vs. (8) ANTONIO GATES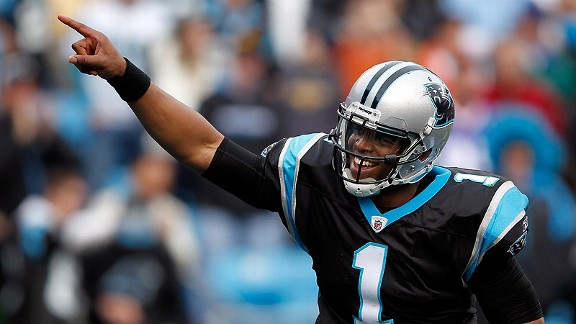 Streeter Lecka/Getty ImagesSo far, Cam Newton has more votes than any other player in the tournament.
This looks like another easy round for Cam. Gates is a "Madden" legend of epic proportions, but I have a feeling Newton's "Madden 13" character will be remembered as one of the all-time greats when the game ships in August.
(5) LESEAN MCCOY vs. (4) LARRY FITZGERALD
Larry Fitzgerald already had his turn on the cover, so give this one to Shady. If McCoy wins, then goes down this year thanks to the curse, how do you think the city of Philadelphia will react? I can see thousands of people burning "Madden" boxes as part of the tailgating tradition already.
(11) PATRICK WILLIS vs. (3) MAURICE JONES-DREW
Out of the 16 players remaining, Patrick Willis is one of only two defensive players. To me, Willis is the Hit Stick, and I'd love to see his candidacy continue to gain momentum. I think he knocks off MJD in an upset.
(7) DARRELLE REVIS vs. (2) VICTOR CRUZ
I love how the battle of New York is between a wide receiver and a corner. If only we could settle this on the field somehow. One pass to win the game (and cover), Eli Manning throws the ball up to Cruz, if he catches it, he wins, if Revis knocks it down or picks it off, we get a Jet in the Elite Eight. I'd put my money on Revis in the competition, but Cruz in a fan vote.
THE AARON RODGERS HAS TOUGHER COMPETITION THAN I THOUGHT BRACKET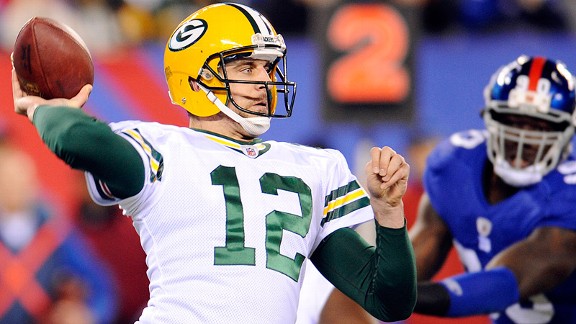 AP Photo/Bill KostrounAaron Rodgers looks to move on to the Elite Eight in the "Madden" cover vote.
(1) AARON RODGERS vs. (8) MARSHAWN LYNCH
"I eat your Skittles" is 2012's "I drink your milkshake." Rodgers is moving on.
(5) RAY RICE vs. (4) DREW BREES
This might be the closest race in the round of 16. Ray Rice has proven with his win in the "NFL Blitz" cover vote that his fans come out in big numbers to help support his video game addiction, so I wouldn't put it past him to knock off Brees here.
(6) CALVIN JOHNSON vs. (3) ARIAN FOSTER
Arian Foster already beat both Tim Tebow and Andre Johnson in convincing fashion. Can he make it three huge upsets in a row? I think the streak ends here with Megatron. The numbers Johnson is pulling in so far are staggering.
(7) JARED ALLEN vs. (2) ROB GRONKOWSKI
Gronkowski has been pushing hard for the cover, making a cool video where he works out and shouts "Woooo!" like Ric Flair, and even talking to me about his love for "Call of Duty" and "Madden." Jared Allen and his legion of mullets have no chance.
ESPN ARCADE
The sequel to our most popular game is here. How's your return?

Run timed routes, beat DB's to the end zone and score.

Hit your receivers, dodge defenders and rack up TDs.