Indianapolis 35, Washington 32
Redskins comeback falls just short in Game of the Year candidate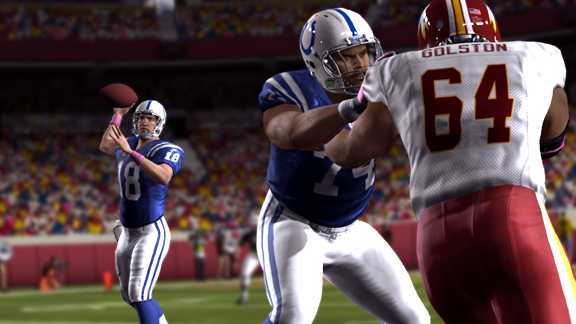 EA Sports
If the real-life game turns out to be anything like the "Madden" simulation, football fans are going to be glued to their TVs for four quarters of electrifying action. The Colts scored 21 points in the second quarter to take a big early lead, but the Redskins just kept battling back, closing the gap to 35-32 in the final minute. But when the Washington onside kick was recovered by the Colts, Indy escaped with the three-point win.
Player of the Game: Reggie Wayne
ESPN ARCADE
The sequel to our most popular game is here. How's your return?

Run timed routes, beat DB's to the end zone and score.

Hit your receivers, dodge defenders and rack up TDs.