Indianapolis 21, NY Jets 20
Manning, Indy win slugfest against Jets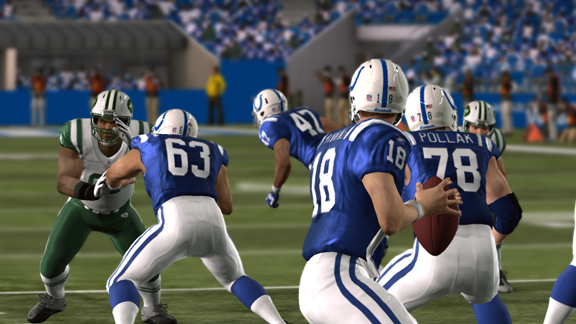 EA Sports
Peyton Manning threw for 290 yards, including two third quarter touchdowns, as Indianapolis outlasted the Jets in an old-fashioned slobberknocker.
Hard hits ruled the day, with virtual players on all sides taking a pounding. In fact, the fourth quarter looked like an NFL Films study on high-speed collisions as neither team was able to put points on the board against the ready-to-play defenses.
And while Mark Sanchez threw for 237 yards and two scores for the Jets, he also threw two interceptions that helped turn the tide for Indy, as Peyton Manning and crew advance to the next round.
Player of the Game: Peyton Manning