When Ted DiBiase was a kid, did he ever dream of stealing his dad's Million Dollar Belt and running off to Mexico?
"I thought about it all the time," laughs the young DiBiase, who grew up watching his dad play the role of "The Million Dollar Man," one of the most cutthroat, evil and outright hilarious heels in the history of the squared circle (how else can you explain offering to pay a kid $500 if he bounces a basketball 15 times, then kicking the ball away from him on bounce 14).
WWE SMACKDOWN VS RAW 2010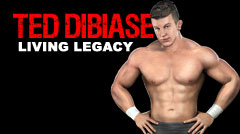 Check out the first screenshots of Legacy's Ted DiBiase from "WWE Smackdown vs Raw 2010." Gallery »
But being the son of The Million Dollar Man and having access to the Million Dollar Belt (estimated street value $40K), did have its advantages, even if it didn't involve soaking in the sun across the border.
"I do have a Million Dollar Belt story," he tells me with a wide grin. "I actually took the belt to show-and-tell one day. And my dad, he didn't just carry the belt in a bag, he had a briefcase, a Halliburton briefcase with a lock on it. So all these kids pull out their paper sacks and pull out whatever they're showing, then all of a sudden I come in with this briefcase and I slap it up on the desk. Then I enter the code, pop the briefcase open, and there it is in all its glory, the Million Dollar Belt.
"After that, I had like three girlfriends."
These days, DiBiase doesn't need his dad's diamonds to attract attention. The son of The Million Dollar Man seems on the fast track to do one thing his father never accomplished — winning the WWE Championship.
I caught up with DiBiase as we sat down to check out "WWE Smackdown vs Raw 2010" for the first time to talk about his career in both the real and virtual rings.
Here's what the kid with million-dollar dreams and lineage had to say along with the exclusive first screens of what he looks like in the new game.
---
Jon Robinson: I was in San Jose for Raw when you slapped your dad in the face. Did you mean to hit him that hard?
Ted DiBiase: You know, I've been saving that up for a really long time. [laughs] When it actually happened, I turned around and saw his reaction and I felt a little bad. But what you didn't see is after the show, after we went dark on TV, I was standing on the stage with Cody Rhodes and Randy Orton, and all of a sudden the music hits, the Million Dollar Man music hits, and I turn around and out walks my dad. He slapped the ever-living crap out of me. It knocked me to my butt, and then he walked off. The place went crazy. So yeah, I slapped him hard, but he got me back.
"

I'm a third-generation wrestler. … you may get a look because of that, just out of respect for what my father did, but it's up to me to actually show some skills and offer some promise and I think I've done that.

"

-- Ted DiBiase
Jon Robinson: What's it like, not only growing up in the wrestling business, but then trying to make your own mark in WWE?
Ted DiBiase: It started out as a dream. It was nothing that was ever going to be given to me or guaranteed, as much as some people will say because of who my dad is or because I'm a third-generation wrestler. I think, yes, you may get a look because of that, just out of respect for what my father did, but it's up to me to actually show some skills and offer some promise and I think I've done that. I've worked so hard to get to where I'm at right now and my dad has been very encouraging. I've had a lot of people help me along the way, too, like Harley Race and Steve Keirn and Tom Prichard. Those guys trained me. And to be wrestling guys like D-X, it's unreal. This whole experience is an honor and it's exciting.
Jon Robinson: One of the best matches you've had to date was actually against your Legacy teammate, Randy Orton. Was there a lot of pressure for you going into that match as you were trying to prove to everyone that you have what it takes to make it to that top spot?
Ted DiBiase: There's always that pressure, and especially being in the ring with Randy because he's on top. It's pressure, it's live TV, there are thousands of people watching in the arena and millions watching at home so you want to look good. But that was a cool night for me. I've always wanted to wrestle Randy. We're boys. We're part of the Legacy together right now, but I think the future holds some really cool things, some really cool opportunities.
Jon Robinson: Randy always talks about how traveling with Triple H and Ric Flair changed his career because the vets sat down with him and taught him so much. Does Randy share that knowledge with you and Cody while you guys are on the road?
Ted DiBiase: Absolutely. Not only do you learn a lot, but Randy always picks up the tab. He's been nothing but help. He offers me help all the time, and he doesn't have to do that, but we share a very special bond, the fact that we're both third-generation wrestlers, so there's that connection there. He's reached out to me and has really made sure that I take the steps that I need to take to hopefully be where he's at one day. We need to build a bigger card. These guys won't be around all the time. Look at D-X … they're old. [laughs] They're old. It's our time now.
Jon Robinson: You're teaming with Cody Rhodes [son of Dusty Rhodes], but is there competition between you guys as well since you're both going to eventually be gunning for that same spot on top?
Ted DiBiase: Yeah, there's competition with everyone. With me and Cody, it's interesting because I have no doubt he will be on top, and I have no doubt that I will be on top, so I think it's one of those things where we feed off of each other and we motivate each other. We're climbing the ladder and that's the really cool thing. He has the same kind of story that I do, so it's really cool to share that with somebody. I have a little brother who is down in FCW as well, so there's a lot to look forward to.
Jon Robinson: So is your brother the next Legacy member?
Ted DiBiase: I don't know. He's only been down there like six months.
Jon Robinson: How long did it take you to make it up to WWE?
Ted DiBiase: About six months. [laughs] But he's 21. He's a young guy and he just started. He's doing good, though. He's making good progress.
Jon Robinson: The new "WWE Smackdown vs Raw 2010" game lets you create your own storyline. If you could write your own future in the business, what would it be?
Ted DiBiase: I want to defeat The Undertaker at Wrestlemania and break his streak. That would be my ultimate storyline.
Jon Robinson: That would take The Undertaker's story full circle since your dad is the one who introduced him back in the day.
Ted DiBiase: Exactly.
Jon Robinson: We're checking out "WWE Smackdown vs Raw 2010" and I know a lot of guys like Cody and Kofi Kingston are big gamers. Do you ever get time to play?
Ted DiBiase: Honestly, I don't get much time. I'm married, so when I go home, I don't get much time at home. When I'm there I help clean up the house and do married stuff. I'm getting really old. But obviously now that I'm in the game, I need to start playing again. I used to play all the time. Maybe I'll get it for the PSP so I can bring it on the road.
Jon Robinson: Did you used to play the old wrestling games as your dad when you were a kid?
Ted DiBiase: That was the deal. My dad would come home and we'd pick him up at the airport and head straight to Toys"R"Us and he'd buy me like five or six Nintendo games at a time. So I had just stacks of Nintendo games everywhere … that's all I used to do. I'd play my dad … it's cool to remember those times.
Jon Robinson: Sounds like all those diamonds in the Million Dollar Belt came in handy at Toys"R"Us.
Ted DiBiase: Pull out one diamond and you'd get a lot of Nintendo games, that's for sure.