This week, the person we're throwing in the lake is: Me.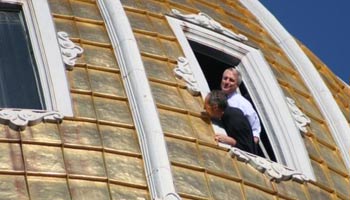 On the day of the Rockies home opener this past season, I was asked by KOA radio (Denver) if the local team could make the playoffs.
Playoffs? Were they smoking rope? The Rockies lost their best player -- Matt Holliday -- had a poorer pitching staff and were coming off a rotten 2008.
"I will tongue-bathe the Capitol dome if the Rockies make the playoffs," I said, smugly.
By the middle of May, I was looking clairvoyant. The Rockies were 10 games under .500 and about to fire their manager, Clint Hurdle. My tongue was safe.
But then the Rockies hired Jim Tracy and started playing like they all showered daily at Lourdes. They wound up 22 games above .500 and won the wild-card entry in the National League.
Me and my dome ideas.
A man is only good as his word. So, Tuesday afternoon, with a bottle of Purell, a bottle of Scope, Colorado Gov. Bill Ritter, Jr. and Denver mayor John Hickenlooper, I climbed the 96 steps from the third floor of the capitol building to the dome, as a man might to his own hanging.
The dome is the size of an Applebee's restaurant. I'd need to be Gene Simmons to tongue bathe the whole thing.
My wife, Cynthia, gave me a kiss. "Don't expect another for a long time," she said.
Nobody was ever meant to be inside the dome, but there we were among the unfinished planks and rickety walks. The window I was to lean out was floor-to-ceiling, with nothing to hang onto, and nobody brought any ropes or harnesses. Should a man die simply because he has a big mouth?
My son held on to one belt loop and the governor had the other as I leaned out. The gold-plated part is a good foot from the window, so I had to lean out well over a precipitous 100-foot drop, which was terrifying. Not to me, to Hickenlooper. He's afraid of heights.
"No! This is crazy! Get back in here!" he kept saying.
But I leaned out far enough -- thank you, Levi's -- pretended the dome was a Dairy Queen butterscotch-dipped cone and took a large St. Bernard lick. It was gritty and metallic and dusty. In the 119-year history of the dome, I guess I'm the first guy to know that.
The governor and my son pulled me back in by my loops and a man from KOA said, "So, what did it taste like?"
"Crow," I said.
See all of Rick Reilly's Throw A Guy In The Lake
More random mind dumps from the brain of Rick Reilly. Go fish!
Be sure to check out Rick's Life of Reilly