MUST LISTEN
Brian Koppelman
Bomani Jones welcomes friend and co-creator of the TV show "Billions" on Showtime Brian Koppelman for a wide-ranging conversation about the show. They discuss writing for TV vs. film (1:03), why people root for "bad" dudes as well as how we define that (6:56), quantifying billionaires (16:17), the use of music in shows (41:51) and more.
Play | Download | Apple Podcasts | RSS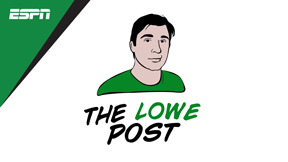 Steve Kerr
Zach talks to Warriors coach Steve Kerr about another championship (:30), the struggles against the Rockets (22:20), re-connecting with Kevin Durant (34:30), the future of the team (39:45) and much more.
Play | Download | Apple Podcasts | RSS
MOST POPULAR
Michael Wilbon and Frank Isola debate what the Spurs should do about the trade demand, weigh in on the Portugal-Spain World Cup and the U.S. Open.

Max and Stephen A debate the LeBron obsession, NBA analytics, NFLPA fighting new policy and so much more.

The guys continue their conversation around LeBron James and where he might end up and talk with Capitals F Tom Wilson, ESPN Soccer Analyst Julie Foudy and more.
The crew take a voicemail from a listener moving back home with his parents (0:25), talk about the Golden Knights making the Stanley Cup Finals in their first year as a team (15:30), the people at Preakness and the Royal Wedding who have "crazy hat confidence" (26:00) and Katie's Top 10 NBA moments of 2018 (42:30).

Adam welcomes Kirk Herbstreit & Chris Fallica to discuss their perspective on the top players in this year's NFL Draft, their role in ESPN's draft coverage and more (:31). Plus, the return of #AskAdam (21:09).
FIND YOUR FAVORITE PODCAST
FOLLOW US ON TWITTER

Get the latest updates on Twitter. Follow us.