MUST LISTEN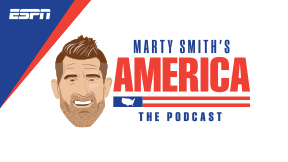 Will to Win
Marty chats with WVU QB and Heisman hopeful Will Grier about staying at WVU for another year, learning from what happened at UF and his family. Plus, how long should jorts be?
Play | Download | Apple Podcasts | RSS
DeMarco Murray
Adam Schefter talks with free agent RB Demarco Murray about where he thinks he might end up playing this year, which teams he's already crossed off his list, the growth of Titans RB Derrick Henry and much more.
Play | Download | Apple Podcasts | RSS
MOST POPULAR
Frank Isola and Izzy Gutierrez weigh in on if the Isner-Anderson match too long, if it's ok for the HOF not to mention T.O., was it smart for IT to take a 1-year minimum deal and more.

Rachel Lindsay, Jason Fitz and Damien Woody debate if Lakers should bring back Phil Jackson, Jerome Bettis comments on Leveon Bell, and if Trae Young is a bust.

The guys are live from Washington, D.C. for the MLB All-Star game. They are joined by Adnan Virk who is calling the Celebrity All-Star game and then D.C. native Clinton Yates.
The crew take a voicemail from a listener moving back home with his parents (0:25), talk about the Golden Knights making the Stanley Cup Finals in their first year as a team (15:30), the people at Preakness and the Royal Wedding who have "crazy hat confidence" (26:00) and Katie's Top 10 NBA moments of 2018 (42:30).

Adam welcomes Kirk Herbstreit & Chris Fallica to discuss their perspective on the top players in this year's NFL Draft, their role in ESPN's draft coverage and more (:31). Plus, the return of #AskAdam (21:09).
FIND YOUR FAVORITE PODCAST
FOLLOW US ON TWITTER

Get the latest updates on Twitter. Follow us.