MUST LISTEN
BIKRAM Part 1: Arrival
Bikram Choudhury begins his journey to fame, wealth, and scandal in 1970s Los Angeles. He takes Beverly Hills by storm, using his Hollywood connections and rags-to-riches origin story to build a devoted following and lay the foundation for a yoga empire. Reported by Julia Lowrie Henderson. Hosted by Jody Avirgan. More information at 30for30podcasts.com/bikram
Play | Download | Apple Podcasts | RSS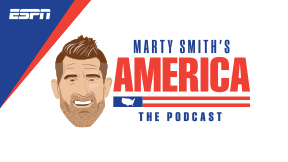 Dust on the Bottle
Marty chats with country superstar David Lee Murphy about how Dust on the Bottle came to be. Plus, tequila, Eric Church & George Strait in the Marty Party.
Play | Download | Apple Podcasts | RSS
MOST POPULAR
Tony Kornheiser and Michael Wilbon weigh in on the new National Anthem policy, was game 4 a turning point for the Rockets, is tonight a must-win for the Celtics and more.

Max and Stephen A discuss who redeemed themselves for the Rockets, LeBron James' comments on reported data of him being slow, NFL'S new rules on protests and much more.

The guys review the Rockets huge Game 4 victory against the Warriors to even up the Western Conference Finals 2-2. Plus, LeBron's former teammate and Jayson Tatum's godfather.
Adam welcomes Kirk Herbstreit & Chris Fallica to discuss their perspective on the top players in this year's NFL Draft, their role in ESPN's draft coverage and more (:31). Plus, the return of #AskAdam (21:09).

Zach talks to Chris Herring of FiveThirtyEight about Pelicans-Blazers (5:52), Jrue Holiday's great series, how concerned the Cavs should be (22:26), Thunder-Jazz (48:10), and Donovan Mitchell.

Bill Barnwell and Matt Bowen talk NFL Draft and how Lamar Jackson can succeed in the NFL. Plus, Kevin Pelton breaks down the Western Conference NBA playoff picture.
FIND YOUR FAVORITE PODCAST
FOLLOW US ON TWITTER

Get the latest updates on Twitter. Follow us.