MUST LISTEN
The End of UConn's Dominance?
The UConn Huskies have long reigned supreme in women's college basketball. But where they once seemed invincible, cracks have started to show. The Huskies have exited the tournament in the semi-finals the past three seasons, and recently suffered their first double-digit loss in years. ESPN basketball analyst LaChina Robinson explores the legacy of UConn, and whether the Huskies' dynasty is near its end.
Play | Download | Apple Podcasts | RSS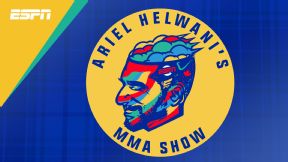 What's Next For Conor McGregor?
Is Conor McGregor back? NewYorkRic weighs in on that before he and Ariel lay out a number of possibilities for McGregor's next fight. Then, MMAFighting's Peter Carroll discusses the perception of McGregor's win in Ireland and if the people of the Emerald Isle are convinced McGregor has changed for the long-term (32:09). Plus, TST's impressions of the fight and his "Minimalist Tip of the Week" (52:20).
Play | Download | Apple Podcasts | RSS
MOST POPULAR
Michael Wilbon and Frank Isola react to high seeds losing at the Australian Open, Zions second game tonight and the NBA All-Star starters.

First Take reacts to Eli Manning's retirement press conference and if he had a Hall of Fame career. The guys also debate McNabb's recent comments on Terrell Owens.

On the day of little brother Eli's retirement, we get big brother Peyton Manning to chat with us about his career. Plus, Trey and Stephen A. Smith settle a beef you must hear.
Last night, Kawhi Leonard returned to Toronto and Brian Windhorst, Jackie MacMullan and Tim MacMahon discuss the Raptors' reception before asking the question: should Kawhi's jersey be retired? Then, the crew makes early All-Star roster predictions (12:27) before reacting to some confounding stats (21:42) and asking if any player would merit a 9-year contract like the one Gerrit Cole just signed with the New York Yankees (31:31).

Zach talks to John Hollinger of The Athletic about trade buyers and sellers (3:33), Kevin Love (21:15), much more.
FIND YOUR FAVORITE PODCAST
FOLLOW US ON TWITTER

Get the latest updates on Twitter. Follow us.