MUST LISTEN
Scott Van Pelt on Tiger/Peyton vs. Phil/Tom
Champions collide this weekend as golf legend Tiger Woods and Super Bowl MVP Peyton Manning tee off against golf legend Phil Mickelson and...Super Bowl MVP Tom Brady. ESPN's own golf expert Scott Van Pelt breaks down "The Match: Champions for Charity," which will raise over $10 million for coronavirus relief efforts. Van Pelt discusses how he believes The Match's competitors will fare, as well as the PGA's plans to bring golf back soon. Then, Mina chats with 2020 Madden Bowl winner Raidel "Joke" Brito on how his no-passing strategy paid off.
Play | Download | Apple Podcasts | RSS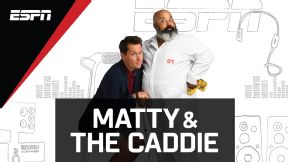 "Live Golf" is Back, The Match Pt. 2 Preview, USGA Cancels Qualifiers
"Live golf" is back and Matty & The Caddie share their thoughts on the Rory McIlroy/Dustin Johnson/Ricky Fowler/Matt Wolff charity match. Later, the guys get into The Match Pt. 2 and why everyone involved is a corporation, Lee Westwood and Adam Scott saying they're not yet comfortable playing events, and the USGA canceling U.S. Open qualifiers.
Play | Download | Apple Podcasts | RSS
MOST POPULAR
Michael Wilbon and Tony Kornheiser remember Jerry Sloan, talk a potential NBA return in July and if Brady vs. Manning in golf will be compelling.

Jalen & Jacoby: The Aftershow continues with part one of Lance, a two-part documentary breaking down the rise and fall of disgraced cyclist Lance Armstrong. The guys dive into Lance's early relationship with the cheating, what role his step-father played in making him a great athlete (spoiler alert: the guys don't believe his step-father), how he handled fame and money at such a young age and his bout with stage four testicular cancer.

Bomani Jones discusses the "funny money" implications of NBA owners and the possible return to action for the league, namely Tillman Fertitta in light of his recent visit to The White House (1:34). Plus, author and journalist Sam Smith joins for the final installment of The Right Time Book Club on his book "The Jordan Rules", including if he thought it would be controversial when he wrote it, the media's fascination with Michael Jordan, and Jordan's view of Horace Grant as "the snitch" when it came to the book's sourcing (13:48). All that and more!
Tom Brady (8:01). Rory McIlroy (20:08). Jimmy Dunne (44:21). STUpodity. Collision course.

"Republicans buy sneakers too." It's considered by many as Michael Jordan's most infamous quote, a jab that showed how his commercial interests stacked up against politics or social and racial justice. Episode 5 of "The Last Dance" docuseries focuses on Jordan's history and legacy around these issues, with MJ confirming he did indeed say those cutting words. Jesse Washington wrote about the origins and ripple effects of Jordan's comments for The Undefeated, and today he shares his reporting. Plus, Justin Tinsley shares a personal story of watching Jordan's last championship, and the end of a family era.
FIND YOUR FAVORITE PODCAST
FOLLOW US ON TWITTER

Get the latest updates on Twitter. Follow us.