MUST LISTEN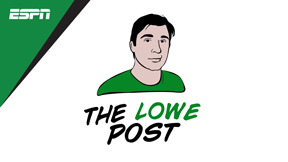 Bill Simmons
Zach talks to Bill Simmons of The Ringer about Clippers-Rockets craziness (:45), Eastern Conference All-Stars (14:12), and much more.
Play | Download | Apple Podcasts | RSS
Divvy'ed Up
Field Yates and David Jacoby share their thoughts on the shocking results of the Divisional Round of the NFL postseason, including Saints-Vikings (1:56), Titans-Patriots (21:41), Jaguars-Steelers (24:42) and Falcons-Eagles (38:06). Plus, they touch on what to expect from the Conference Championships (43:48).
Play | Download | Apple Podcasts | RSS
MOST POPULAR
Michael Wilbon and Tony Kornheiser weigh in on if the league needs to come down hard on the Clippers and Rockets, Cavs players concerned about their current slump, Melo being "Done with the refs" and more.

Stephen A. & Max debate whether or not it's time for the Cavs to panic, the locker room altercation between the Rockets and Clippers, when will Big Ben retire and more.

The guys talk about the scuffle between the Rockets and Clippers and then talk with Cavs reporter Dave McMenamin and Vikings color analyst Pete Bercich and more.
Katie and her producers run through this weekend's Divisional Round NFL games before being joined by Adam Pally (12:00) to talk NY sports, if all coaches should wear suits, and is kale really better than regular lettuce?

Matt Schick, Adam Rittenberg and Brad Edwards discuss Alabama's thrilling win over Georgia, the emergence of Tua Tagovailoa and much more.

Mel Kiper Jr., Todd McShay and Chris Sprow discuss the strategy at the top of the draft (10:45), look at some of the best non-quarterbacks in the class (31:00) and more.
FIND YOUR FAVORITE PODCAST
FOLLOW US ON TWITTER

Get the latest updates on Twitter. Follow us.