MUST LISTEN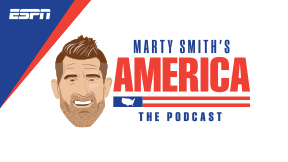 Dust on the Bottle
Marty chats with country superstar David Lee Murphy about how Dust on the Bottle came to be. Plus, tequila, Eric Church & George Strait in the Marty Party.
Play | Download | Apple Podcasts | RSS
Brent Musburger, VSiN
Adam Schefter talks to Brent Musburger about the impact of the new gambling laws, his legendary broadcasting career, how NFL football will fare in Las Vegas and much more.
Play | Download | Apple Podcasts | RSS
MOST POPULAR
Tony Kornheiser and Michael Wilbon weigh in on if the Rockets can recover after a 41-pt beatdown, has the Celtics/Cavs series shifted, does it matter if the Vegas Golden Knights win the Cup and more.

Stephen A. and Max react to Scottie Pippen's comments on LeBron James and Michael Jordan, question if the Suns should trade the No. 1 draft pick and more!

The guys discuss Johnny Manziel's return to playing football professionally, and preview the Cavaliers and Celtics game 3.
Adam welcomes Kirk Herbstreit & Chris Fallica to discuss their perspective on the top players in this year's NFL Draft, their role in ESPN's draft coverage and more (:31). Plus, the return of #AskAdam (21:09).

Zach talks to Chris Herring of FiveThirtyEight about Pelicans-Blazers (5:52), Jrue Holiday's great series, how concerned the Cavs should be (22:26), Thunder-Jazz (48:10), and Donovan Mitchell.

Bill Barnwell and Matt Bowen talk NFL Draft and how Lamar Jackson can succeed in the NFL. Plus, Kevin Pelton breaks down the Western Conference NBA playoff picture.
FIND YOUR FAVORITE PODCAST
FOLLOW US ON TWITTER

Get the latest updates on Twitter. Follow us.