MUST LISTEN
Sweet 16 & Elite 8
Seth Greenberg and Dan Dakich break down every game of the Sweet 16 and look ahead to potential Elite 8 matchups. Who will advance to the Final 4 in San Antonio? The guys discuss!
Play | Download | Apple Podcasts | RSS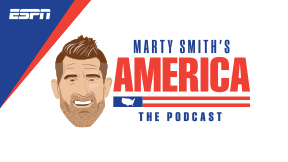 Dirt Road Anthem
In the debut of Marty Smith's America The Podcast, Marty chats with friend and co-host of Marty & McGee, Ryan McGee, sits down with country superstar Jason Aldean to talk about his kids, his love for the outdoors and whether he is over Georgia losing the National Title game (28:30). Plus, we hear from a loyal caller from Marty & McGee as Leighton talks about the rodeo (43:30).
Play | Download | Apple Podcasts | RSS
MOST POPULAR
Michael Wilbon and Tony Kornheiser debate on what Trae Young will look like as a pro & the success he will have, if the Blazers will extend their streak, if the Cavs look better with Kevin Love and more.

Jeff Saturday and Will Cain join Max and Stephen A. to debate ESPN the Mag's list of the 20 most dominant athletes, and much more!

The guys talk about the future of Tom Izzo and react to Baker Mayfield putting out a documentary prior to the draft. They also talk with Dave McMenamin, Coach K & more.
Adam Schefter recaps the biggest moves from the first week of free agency with Field Yates (:33). Plus, new Jets DB Trumaine Johnson discusses signing with New York, getting tagged twice by the Rams and much more (26:54).

Mel, Todd & Chris break down the impact of the Jets moving up to No. 3 and more (1:53). Plus, they break down the strategy for the Broncos (28:04), Raiders (32:36), Chargers (34:26) & Chiefs (37:51).

Before catching up with David Ortiz (30:07), Buster & Tim Kurkjian discuss the Jorge Polanco suspension, Jose Altuve's new deal and much more (6:57). Plus, the latest installment of Todd Radom's uniform trivia (41:16).
FIND YOUR FAVORITE PODCAST
FOLLOW US ON TWITTER

Get the latest updates on Twitter. Follow us.