MUST LISTEN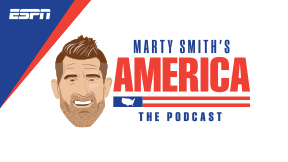 A MVP Conversation with KD & Breanna Stewart
What up y'all, I went out to Seattle and talked with KD & Breanna Stewart and you're going to see them like you've never seen them. Plus, tweet me pics of your J's
Play | Download | Apple Podcasts | RSS
Juiced
At the end of his career, Jose Canseco, the self-proclaimed "godfather of the steroid era," was effectively forced out of baseball. As revenge, Canseco conceived a tell-all memoir in which he would call out his fellow players for steroid use. Within a month of its publication, Juiced sparked a congressional hearing. Reported by Andrew Mambo. More at 30for30podcasts.com
Play | Download | Apple Podcasts | RSS
MOST POPULAR
Michael Wilbon and Frank Isola question if the Red Sox win was vindication for David Price, preview the Dodgers-Brewers NLCS, discuss LeBron's debut as a Laker and more.

Stephen A. and Max debate if Saturday's game is bigger for the Rockets or the Lakers, what to expect from Cam vs Carson Wentz and Tim Tebow joins us to talk college football.

The guys talk about the Chiefs dominance before talking about the Lakers/Rockets brawl with ESPN Lakers Reporter Ohm Youngmisuk. They also play Good, Bad, & Ugly & more.
The crew take a voicemail from a listener moving back home with his parents (0:25), talk about the Golden Knights making the Stanley Cup Finals in their first year as a team (15:30), the people at Preakness and the Royal Wedding who have "crazy hat confidence" (26:00) and Katie's Top 10 NBA moments of 2018 (42:30).

Adam welcomes Kirk Herbstreit & Chris Fallica to discuss their perspective on the top players in this year's NFL Draft, their role in ESPN's draft coverage and more (:31). Plus, the return of #AskAdam (21:09).
FIND YOUR FAVORITE PODCAST
FOLLOW US ON TWITTER

Get the latest updates on Twitter. Follow us.