MUST LISTEN
BIKRAM Part 1: Arrival
Bikram Choudhury begins his journey to fame, wealth, and scandal in 1970s Los Angeles. He takes Beverly Hills by storm, using his Hollywood connections and rags-to-riches origin story to build a devoted following and lay the foundation for a yoga empire. Reported by Julia Lowrie Henderson. Hosted by Jody Avirgan. More information at 30for30podcasts.com/bikram
Play | Download | Apple Podcasts | RSS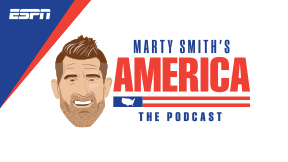 Dust on the Bottle
Marty chats with country superstar David Lee Murphy about how Dust on the Bottle came to be. Plus, tequila, Eric Church & George Strait in the Marty Party.
Play | Download | Apple Podcasts | RSS
MOST POPULAR
Tony Kornheiser and Michael Wilbon preview Game 5 of the WCF between the Rockets and Warriors, if LeBron is too tired to finish the series, the Capitals advancing and more.

Stephen A., Max and Will debate the impact of the NFL's new policy on protesting during the anthem. Plus, Michael Kay joins the show to talk Yankees and much more.

Wingo and guest host Chris Canty react to the NFL's new national anthem policy before games. Plus, is LeBron physically tired or tired of his team?
The crew take a voicemail from a listener moving back home with his parents (0:25), talk about the Golden Knights making the Stanley Cup Finals in their first year as a team (15:30), the people at Preakness and the Royal Wedding who have "crazy hat confidence" (26:00) and Katie's Top 10 NBA moments of 2018 (42:30).

Adam welcomes Kirk Herbstreit & Chris Fallica to discuss their perspective on the top players in this year's NFL Draft, their role in ESPN's draft coverage and more (:31). Plus, the return of #AskAdam (21:09).
FIND YOUR FAVORITE PODCAST
FOLLOW US ON TWITTER

Get the latest updates on Twitter. Follow us.