MUST LISTEN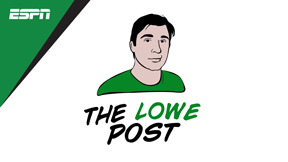 Ryen Russillo
Zach and Ryen Russillo pick All-NBA teams, and talk D'Angelo Russell, awards races, and much more.
Play | Download | Apple Podcasts | RSS
Episode Eleven: Dan Patrick Part II: 3/19/19
Part II of our discussion with Dan Patrick. In this episode Dan goes into detail where his relationship with ESPN fell apart and how, after several years, he's squashed the beef. Discover how Dan went from losing out on a local TV job in Dayton to having his own sports empire. DP shared plenty of great stories in Part I, he keeps them coming here.
Play | Download | Apple Podcasts | RSS
MOST POPULAR
Micheal Wilbon and Tony Kornheiser discuss the NCAA tournament and the pressure on Zion and Duke, Doc Rivers' potential interest in coaching the Lakers, will the NCAA regret the Tate Martell decision, was the MLB right to start the season in Japan and much more.

Max and Stephen A. discuss the relationship between Vontaze Burfict and Antonio Brown, how much pressure is on Andrew Luck, and if Dez can be a contributor on a championship team.

Day 1 of the NCAA Championship Tournament is done and how are your brackets holding up. The NFL is looking at changes in the way that they review penalty plays.
The crew take a voicemail from a listener moving back home with his parents (0:25), talk about the Golden Knights making the Stanley Cup Finals in their first year as a team (15:30), the people at Preakness and the Royal Wedding who have "crazy hat confidence" (26:00) and Katie's Top 10 NBA moments of 2018 (42:30).

Adam welcomes Kirk Herbstreit & Chris Fallica to discuss their perspective on the top players in this year's NFL Draft, their role in ESPN's draft coverage and more (:31). Plus, the return of #AskAdam (21:09).
FIND YOUR FAVORITE PODCAST
FOLLOW US ON TWITTER

Get the latest updates on Twitter. Follow us.