MUST LISTEN
You Remind Me Of...
Mel Kiper Jr., Todd McShay & Chris Sprow discuss comps for this year's top prospects (1:34) and break down the draft needs for the Jets (18:15), Bills (25:11), Dolphins (32:56) and Patriots (40:30). Plus, they answer your #FirstDraft mailbag questions (49:11).
Play | Download | Apple Podcasts | RSS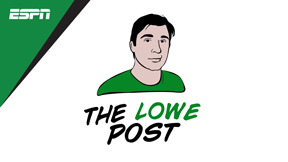 Dan Devine
Zach talks to Dan Devine of The Ringer about the top (3:03) and bottom (29:55) of the Eastern Conference, crazy Lottery fantasies (41:00) and much more.
Play | Download | Apple Podcasts | RSS
MOST POPULAR
Frank Isola and Michael Wilbon discuss if Dell Demps deserved to be fired, if Luke Walton's job is safe and if there's any validity to Trevor Bauer's idea about one-year MLB contracts.

Max and Stephen A. are joined by Mel Kiper Jr. to discuss his new mock draft. Also, the guys debate the pressure on Celtics to get AD and LeBron's comments on Kaepernick.

Jason Fitz in for Trey. They talk about the NBA All-Star weekend before breaking down the NFL and Colin Kaepernick settling their collusion case with Louis Riddick & more.
The crew take a voicemail from a listener moving back home with his parents (0:25), talk about the Golden Knights making the Stanley Cup Finals in their first year as a team (15:30), the people at Preakness and the Royal Wedding who have "crazy hat confidence" (26:00) and Katie's Top 10 NBA moments of 2018 (42:30).

Adam welcomes Kirk Herbstreit & Chris Fallica to discuss their perspective on the top players in this year's NFL Draft, their role in ESPN's draft coverage and more (:31). Plus, the return of #AskAdam (21:09).
FIND YOUR FAVORITE PODCAST
FOLLOW US ON TWITTER

Get the latest updates on Twitter. Follow us.