MUST LISTEN
BIKRAM Part 1: Arrival
Bikram Choudhury begins his journey to fame, wealth, and scandal in 1970s Los Angeles. He takes Beverly Hills by storm, using his Hollywood connections and rags-to-riches origin story to build a devoted following and lay the foundation for a yoga empire. Reported by Julia Lowrie Henderson. Hosted by Jody Avirgan. More information at 30for30podcasts.com/bikram
Play | Download | Apple Podcasts | RSS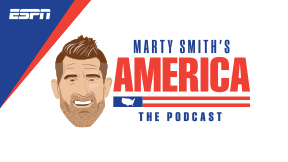 Dust on the Bottle
Marty chats with country superstar David Lee Murphy about how Dust on the Bottle came to be. Plus, tequila, Eric Church & George Strait in the Marty Party.
Play | Download | Apple Podcasts | RSS
MOST POPULAR
Tony Kornheiser and Michael Wilbon debate if the Rockets are doomed without Chris Paul, if tonight is the last glimpse at LeBron in a Cavaliers jersey and more. Plus, Brian Windhorst joins.

Max and Stephen A discuss if Kevin Durant should get a pass for his performance, possible scenarios for the NBA Finals, and if tonight is LeBron's last game in Cleveland.

Rockets come up big in Game 5 and leave the Warriors on the brink of elimination. Tune in find out if Wingo and guest host Chris Canty think the Warriors are done.
The crew take a voicemail from a listener moving back home with his parents (0:25), talk about the Golden Knights making the Stanley Cup Finals in their first year as a team (15:30), the people at Preakness and the Royal Wedding who have "crazy hat confidence" (26:00) and Katie's Top 10 NBA moments of 2018 (42:30).

Adam welcomes Kirk Herbstreit & Chris Fallica to discuss their perspective on the top players in this year's NFL Draft, their role in ESPN's draft coverage and more (:31). Plus, the return of #AskAdam (21:09).
FIND YOUR FAVORITE PODCAST
FOLLOW US ON TWITTER

Get the latest updates on Twitter. Follow us.