MUST LISTEN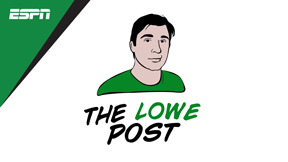 Richard Jefferson
Zach talks to Richard Jefferson about the Clippers' incredible Game 2 win, the DeMarcus Cousins injury, the 2016 Finals, and more.
Play | Download | Apple Podcasts | RSS
Don't Nickel and Dime Your Quarterback
Mina and Louis Riddick discuss getting sassy on social media dealing with keyboard tough guys (2:21), Russell Wilson's new contract and whether or not you can win while paying a QB that much (7:28), how many QBs deserve to go in the first round (31:16), why more top QBs don't pull an Eli Manning (37:49), and how the draft teaches us about both trends in the NFL and the sliding scale of positional importance (43:50).
Play | Download | Apple Podcasts | RSS
MOST POPULAR
Michael Wilbon and Tony Kornheiser ask if the Tampa Bay Lightning coach should be fired after 4-0 sweep, is Russell Westbrook responsible for the Thunder being down 0-2, would the hiring of Ty Lue give too much power to LeBron and much more.

First Take is joined by Tony Reali and Woody Paige from Around the Horn to debate if Durant's comments is a big deal and what would it mean if Kawhi chose the Lakers.

The guys talk about the NFL schedule release with Joe Tessitore before diving into the NFL Playoffs, talking with NFL Draft prospect Quinnen Williams and more.
The crew take a voicemail from a listener moving back home with his parents (0:25), talk about the Golden Knights making the Stanley Cup Finals in their first year as a team (15:30), the people at Preakness and the Royal Wedding who have "crazy hat confidence" (26:00) and Katie's Top 10 NBA moments of 2018 (42:30).

Adam welcomes Kirk Herbstreit & Chris Fallica to discuss their perspective on the top players in this year's NFL Draft, their role in ESPN's draft coverage and more (:31). Plus, the return of #AskAdam (21:09).
FIND YOUR FAVORITE PODCAST
FOLLOW US ON TWITTER

Get the latest updates on Twitter. Follow us.