MUST LISTEN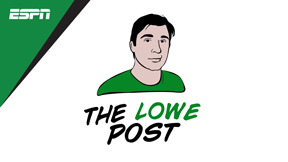 Howard Beck
Zach talks to Bleacher Report's Howard Beck about the Eastern Conference Finals (6:30), Golden State without Kevin Durant (34:24), Lakers dysfunction (49:52), and much more.
Play | Download | Apple Podcasts | RSS
Episode Twenty: Chris Jericho
When you combine his wrestling, music projects, TV hosting, and podcasting, Chris Jericho has a solid argument for being one of the hardest working people in the history of entertainment. He shares with us how he broke into the biz and sheds light onto a complicated relationship with Vince McMahon.
Play | Download | Apple Podcasts | RSS
MOST POPULAR
Tony Kornheiser and Michael Wilbon debate if the Bucks should focus more on beating the Raptors at home & less about Drake, if trouble is brewing in Houston between Harden & Paul, if the shift "problem" will resolve itself and much more.

Stephen A., Max and Will Cain debate who has the leverage in Zeke Elliott's upcoming contract negotiations, if LeBron can get another star to LA and can Giannis force a game 7.

The guys talk about the Raptors beating the Bucks in Game 5 with ESPN NBA Analyst Tim Legler before breaking down NBA contracts and speaking with Dan Graziano & more.
The crew take a voicemail from a listener moving back home with his parents (0:25), talk about the Golden Knights making the Stanley Cup Finals in their first year as a team (15:30), the people at Preakness and the Royal Wedding who have "crazy hat confidence" (26:00) and Katie's Top 10 NBA moments of 2018 (42:30).

Adam welcomes Kirk Herbstreit & Chris Fallica to discuss their perspective on the top players in this year's NFL Draft, their role in ESPN's draft coverage and more (:31). Plus, the return of #AskAdam (21:09).
FIND YOUR FAVORITE PODCAST
FOLLOW US ON TWITTER

Get the latest updates on Twitter. Follow us.