MUST LISTEN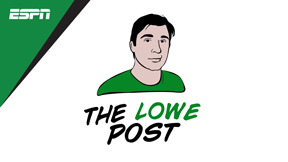 Howard Beck
Zach talks to Bleacher Report's Howard Beck about the Eastern Conference Finals (6:30), Golden State without Kevin Durant (34:24), Lakers dysfunction (49:52), and much more.
Play | Download | Apple Podcasts | RSS
Episode Twenty: Chris Jericho
When you combine his wrestling, music projects, TV hosting, and podcasting, Chris Jericho has a solid argument for being one of the hardest working people in the history of entertainment. He shares with us how he broke into the biz and sheds light onto a complicated relationship with Vince McMahon.
Play | Download | Apple Podcasts | RSS
MOST POPULAR
Tony Kornheiser and Michael Wilbon debate if the Bucks should focus more on beating the Raptors at home & less about Drake, if trouble is brewing in Houston between Harden & Paul, if the shift "problem" will resolve itself and much more.

Max and Stephen A. discuss if Harden or Steph Curry deserves first-team honors more, which team needs Kyrie most and if there's a problem with the NFL's stance on weed.

Juwan Howard is the new coach at Michigan and the guys react to the news with Seth Greenberg. They also preview Game 5 of the ECF with Doris Burke before talking with Stugotz.
The crew take a voicemail from a listener moving back home with his parents (0:25), talk about the Golden Knights making the Stanley Cup Finals in their first year as a team (15:30), the people at Preakness and the Royal Wedding who have "crazy hat confidence" (26:00) and Katie's Top 10 NBA moments of 2018 (42:30).

Adam welcomes Kirk Herbstreit & Chris Fallica to discuss their perspective on the top players in this year's NFL Draft, their role in ESPN's draft coverage and more (:31). Plus, the return of #AskAdam (21:09).
FIND YOUR FAVORITE PODCAST
FOLLOW US ON TWITTER

Get the latest updates on Twitter. Follow us.