MUST LISTEN
Rockets Coach Mike D'Antoni
Houston Rockets coach Mike D'Antoni joins The Woj Pod to discuss the Chris Paul/Russell Westbrook trade, tensions within the Rockets locker room, why James Harden's voice is so important in personnel decisions, coaching the season without an extension, how he's had to compromise his offensive system to fit Harden's talents, working for a new, hands-on owner and a lingering regret of how he coached the Suns/Spurs battles a decade ago.
Play | Download | Apple Podcasts | RSS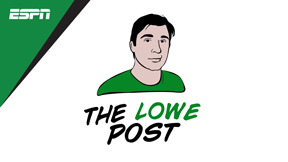 Ryan Saunders
Zach talks to Minnesota Timberwolves coach Ryan Saunders about building around Karl-Anthony Towns, the legacy of his father, Flip, being Kevin Garnett's ball kid, Sam Cassell's trash talk, and much more.
Play | Download | Apple Podcasts | RSS
MOST POPULAR
Tony Kornheiser and Frank Isola discuss the NBAs league-wide investigation into tampering, is it a problem that stars are backing out of the World Cup, should the Giants want another MadBum gem, the Astros young stud and much more.

Stephen A. & Max debate if the Lakers would be favorites with Andre Iguodala and also talk NFL with Marcus Spears and Booger McFarland.

The guys continue to talk about various training camps opening around the NFL with Ryan Clark and Tom Waddle before talking with Miami HC Manny Diaz and more.
The crew take a voicemail from a listener moving back home with his parents (0:25), talk about the Golden Knights making the Stanley Cup Finals in their first year as a team (15:30), the people at Preakness and the Royal Wedding who have "crazy hat confidence" (26:00) and Katie's Top 10 NBA moments of 2018 (42:30).

Adam welcomes Kirk Herbstreit & Chris Fallica to discuss their perspective on the top players in this year's NFL Draft, their role in ESPN's draft coverage and more (:31). Plus, the return of #AskAdam (21:09).
FIND YOUR FAVORITE PODCAST
FOLLOW US ON TWITTER

Get the latest updates on Twitter. Follow us.