MUST LISTEN
That's a Clowney Question, Bro
Mina and Gregg Rosenthal of the NFL Network discuss persons of interest like Jadeveon Clowney (10:16), Derwin James (18:04), Josh Gordon (24:03), Lamar Jackson (43:48), and Deshaun Watson (57:45). Plus, Mina's recall of network television procedurals (4:01), the NFL player she had a dream about (44:39), and a major show announcement (1:04:33).
Play | Download | Apple Podcasts | RSS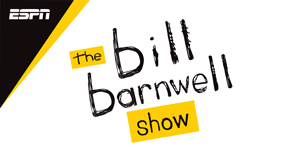 Vince Verhei
Bill chats with Vince Verhei of Football Outsiders about expectations for the 49ers (1:28) and Cardinals (25:00) for the upcoming season. They discuss Jimmy Garoppolo's return from injury (2:10) and John Lynch's ability to build a contender (10:06) as well as what would constitute success in S.F. (18:42). Plus, just how much fun will Arizona's offense be to watch (30:44)? Can Kyler Murray and Kliff Kingsbury score enough points to overcome a porous defense (37:46)?
Play | Download | Apple Podcasts | RSS
MOST POPULAR
Tony Kornheiser and Michael Wilbon discuss Andrew Luck's injury, RB holdouts, play a game of "What's the Word", and more.

Max and Stephen A. determine if Dak or Zeke should be more upset, if Tom Brady's importance to the Pats has been overrated and what is the Lakers' biggest issue.

The guys talk about the Jaylon Smith contract and what it means for the Cowboys before talking about the Cleveland Browns and more. Drew Rosenhaus also joins the show.
The crew take a voicemail from a listener moving back home with his parents (0:25), talk about the Golden Knights making the Stanley Cup Finals in their first year as a team (15:30), the people at Preakness and the Royal Wedding who have "crazy hat confidence" (26:00) and Katie's Top 10 NBA moments of 2018 (42:30).

Adam welcomes Kirk Herbstreit & Chris Fallica to discuss their perspective on the top players in this year's NFL Draft, their role in ESPN's draft coverage and more (:31). Plus, the return of #AskAdam (21:09).
FIND YOUR FAVORITE PODCAST
FOLLOW US ON TWITTER

Get the latest updates on Twitter. Follow us.