MUST LISTEN
The Upset Bracket
Katie, Ashley and Dopp take a voicemail about crustaceans (:20) and talk about how bad their NCAA tournament brackets look (6:45), comedian Bert Kreishcer running a marathon in five and a half hours without training (10:45), and Dopp is thinking about playing Fortnite (14:00). Plus, in honor of all the tournament upsets we do a bracket of all the things that make Katie upset (22:15) and Marty Smith joins the show to talk about his new ESPN podcast (1:13:00).
Play | Download | Apple Podcasts | RSS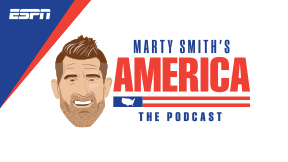 Dirt Road Anthem
In the debut of Marty Smith's America The Podcast, Marty chats with friend and co-host of Marty & McGee, Ryan McGee, sits down with country superstar Jason Aldean to talk about his kids, his love for the outdoors and whether he is over Georgia losing the National Title game (28:30). Plus, we hear from a loyal caller from Marty & McGee as Leighton talks about the rodeo (43:30).
Play | Download | Apple Podcasts | RSS
MOST POPULAR
Michael Wilbon and Tony Kornheiser discuss the Spurs pressuring Kawhi to play, debate which lower seed will win, and was last night's Cavs/Spurs game a preview of the playoffs.

Max and Stephen A. debate what the Spurs should do with Kawhi, Ryan Clark joins the show to talk Sam Darnold's pro day and more.

Adnan reviews Game Night (15:40) and a book by his favorite screenwriter (4:27), tells stories about his favorite actor (9:52), and interviews Tony Parker (21:45).
Adam Schefter recaps the biggest moves from the first week of free agency with Field Yates (:33). Plus, new Jets DB Trumaine Johnson discusses signing with New York, getting tagged twice by the Rams and much more (26:54).

Mel, Todd & Chris break down the impact of the Jets moving up to No. 3 and more (1:53). Plus, they break down the strategy for the Broncos (28:04), Raiders (32:36), Chargers (34:26) & Chiefs (37:51).

Before catching up with David Ortiz (30:07), Buster and Tim Kurkjian discuss the Jorge Polanco suspension, Jose Altuve's new deal and much more (6:57). Plus, the latest installment of Todd Radom's uniform trivia (41:16).
FIND YOUR FAVORITE PODCAST
FOLLOW US ON TWITTER

Get the latest updates on Twitter. Follow us.