MUST LISTEN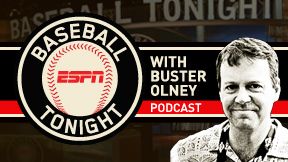 Getting It Back
Buster Olney and Tim Kurkjian discuss Clayton Kershaw's credentials as the greatest pitcher of all time, the return of the Cubs' mojo, Andrew McCutchen's decline and more. Plus, conversations with Orioles C Welington Castillo, Brewers reporter Tom Haudricourt and the debut of "The Sterling Game."
MOST POPULAR
Tony Kornheiser and Michael Wilbon talk about the Cavaliers' Game 4 win, the Senators forcing a Game 7, if quarterbacks should speak out against concussions and more.

Stephen A. Smith and Max Kellerman react to the Cavaliers' Game 4 win, Kyrie Irving's performance and are joined by Falcons coach Dan Quinn.

Greeny & Golic discussed the Cavs winning game four and the NFL making rule changes. Plus, they talked with Jeff Van Gundy and Chris Webber
Chad Millman and Bob Scucci talk 2017 NFL win totals and break down the NBA Finals.

Ahead of Memorial Day Weekend, Adam Schefter sits down with Steelers' LT Alejandro Villanueva to discuss memories from his military service, blocking for a patient Le'Veon Bell and what's next for his NFL career.

Buster Olney talks to Red Sox legend David Ortiz about his playing career, former teammates trying to convince him to come back, his speech after the Boston Marathon attack and much more.
FIND YOUR FAVORITE PODCAST
ESPN Originals
ESPN TV
ESPN Radio
ESPN New York
ESPN Chicago
ESPN Los Angeles
FOLLOW US ON TWITTER

Get the latest updates on Twitter. Follow us.