MUST LISTEN
Adrian Wojnarowski, ESPN
Adam Schefter talks to Sr. NBA Insider Adrian Wojnarowski about the NBA Draft (2:42), LeBron James' future (4:40), his life as an Insider (11:27), the origin of the "Woj Bomb" (26:10) and more.
Play | Download | Apple Podcasts | RSS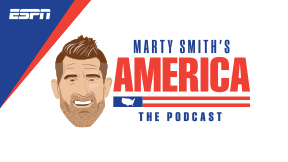 The Lane Train
Marty chats with FAU head coach Lane Kiffin about his use of Twitter, working for Nick Saban & being asked to wear a bullet proof vest. Plus, Marty talks mullets.
Play | Download | Apple Podcasts | RSS
MOST POPULAR
Michael Wilbon and Frank Isola debate what the Spurs should do about the trade demand, weigh in on the Portugal-Spain World Cup and the U.S. Open.

Max and Stephen A discuss Shaq's comments on LeBron, the possibility of Cowboys surprising people, and Odell's contract situation with Will Cain joining the show.

The guys talk about Brooks Koepka winning back-to-back U.S. Open's and the controversy about the playing conditions before talking with Charles Barkley and more.
The crew take a voicemail from a listener moving back home with his parents (0:25), talk about the Golden Knights making the Stanley Cup Finals in their first year as a team (15:30), the people at Preakness and the Royal Wedding who have "crazy hat confidence" (26:00) and Katie's Top 10 NBA moments of 2018 (42:30).

Adam welcomes Kirk Herbstreit & Chris Fallica to discuss their perspective on the top players in this year's NFL Draft, their role in ESPN's draft coverage and more (:31). Plus, the return of #AskAdam (21:09).
FIND YOUR FAVORITE PODCAST
FOLLOW US ON TWITTER

Get the latest updates on Twitter. Follow us.