MUST LISTEN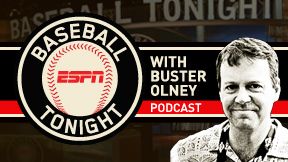 Away We Go
Buster Olney talks to Jayson Stark about possible incentives to improve pace of play, early observations from spring and more. Plus, a "Call to the Legends" with Mike Krukow, a chat with Nationals SS Trea Turner and Andrew Marchand with an update on the Yankees.
Jimmy Garoppolo & DeSean Jackson
Patriots QB Jimmy Garoppolo discusses potential trade rumors and if he'd rather stay in New England until Brady retires or go somewhere else to be the starter. Plus, Redskins free agent WR DeSean Jackson on what he's looking for in a team and if he'd welcome a return to Philly.
MOST POPULAR
Tony Kornheiser and Michael Wilbon discuss why the Lakers decided to hire Magic Johnson, if Derrick Rose should want to get traded to the Timberwolves and who should pursue Jimmy Garoppolo.

Stephen A. Smith and Max Kellerman react to the Kings saying they could have got a better deal rather than the one consummated with the Pelicans. Plus, what's Freddie Roach's agenda when it comes to Mayweather-McGregor?

Greeny, Jay Williams & Booger McFarland discuss DeMarcus Cousins being traded and other trade rumors in the NBA. Plus they chat with Stugotz, Brian Windhorst & Jeff Saturday.
Jorge Sedano, Amin Elhassan and Kevin Pelton share their thoughts on the Demarcus Cousins trade, react to Magic Johnson's new position with the Lakers and much more.

Andy Katz and Seth Greenberg discuss how some teams are putting together a final push as March approaches, comment on the firing of Mark Gottfried and chat with Kansas' Bill Self and Florida's Mike White.

Michael Smith & Jemele Hill talk trash leading up to facing off as coaches in the NBA Celebrity All-Star Game. Plus, they chat with Celebrity All-Star Brandon "Bdot" Armstrong.
FIND YOUR FAVORITE PODCAST
ESPN Originals
ESPN TV
ESPN Radio
ESPN New York
ESPN Chicago
ESPN Los Angeles
FOLLOW US ON TWITTER

Get the latest updates on Twitter. Follow us.