MUST LISTEN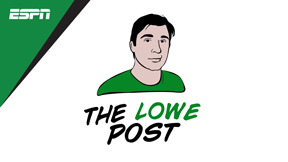 Jackie MacMullan, ESPN
Zach talks to ESPN's Jackie MacMullan about Chris Bosh's desire to play again (3:00), NBA players opening up about mental health issues (45:00), the Rockets (21:00), the Kyrie trade (50:00) and much more.
Play | Download | Apple Podcasts | RSS
Weirdest College Mascot Bracket
Katie, Ashley and Dopp take a voicemail about cereal (:25) and talk about Tom Brady drinking a beer on The Late Show with Stephen Colbert / NFL free agency (6:45), if we still care about Tiger Woods (17:40), and how to pick your bracket for the NCAA tournament (25:00). Plus, we do our own March bracket around the 32 weirdest college mascots (30:30) and our championship school wins the gift of a lifetime (1:25:35).
Play | Download | Apple Podcasts | RSS
MOST POPULAR
Michael Wilbon and Tony Kornheiser weigh in on who they have in the Final Four, could Klay Thompson's injury sink the Warriors, will free agent losses hurt the Pats and much more.

Teddy Bruschi joins Stephen A. and Max to discuss the Seahawks, Will Cain joins us to debate Kaepernick's future in the NFL and more!

Trey Wingo and Chris Canty talk NBA with Stephen Jackson and then get into the start of the NCAA Tournament with help from Seth Greenberg, Porter Moser and more.
Mel, Todd & Chris discuss the impact of a whirlwind weekend on their draft projections. Plus, a deep dive on the strategies of the Bucs (33:28), Falcons (39:10), Panthers (42:17) and Saints (45:27).

Jeff Goodman and Scott Van Pelt discuss the teams who got left out of the tourney (7:30), if UK has legit seeding beef (16:00), the best games of the first weekend (30:56), Final Four predictions (38:20) and more. Plus, "Talk Nerdy To Me" tackles the B1G's tournament profile (24:13).

Adam Schefter and Chris Mortensen discuss a wild past week in the NFL and look ahead to what promises to be a whirlwind start to the new league year this week.
FIND YOUR FAVORITE PODCAST
FOLLOW US ON TWITTER

Get the latest updates on Twitter. Follow us.