MUST LISTEN
Bill Barnwell: NFL Week 7 and Trades
Sundays slate of NFL games brought a few wild endings and surprising upsets. The Cardinals beat the Seahawks in the final minute of overtime. The Browns defeated the Bengals thanks to a last second Baker Mayfield touchdown pass. Todd Gurley accidentally scored a touchdown for the Falcons, setting up Matthew Stafford to deliver a Lions touchdown on the final play of the game - giving the Falcons another new way to lose. Bill Barnwell breaks down this Sundays NFL action, and whats at stake ahead of the NFL trade deadline, just 8 days away. Plus, Khabib Nurmagomedov claimed his 29th straight victory on Saturday. Hear why hes retiring.
Play | Download | Apple Podcasts | RSS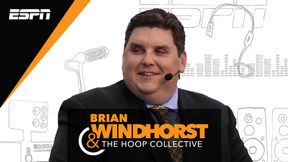 There Will Be No Hiatus
As the idea of a Christmas-time start date gains steam, Brian Windhorst, Ohm Youngmisuk and Bobby Marks discuss the would-be accelerated offseason timeline and its impact on 2021 roster construction. Plus, bubble alternatives, the latest in the GOAT debate and the weirdest places the guys have reported from.
Play | Download | Apple Podcasts | RSS
MOST POPULAR
Karl Ravech joins Buster to discuss the Rays bringing a knife to a gun fight, Mookie Betts completing the circle with the Dodgers, Tyler Glasnow throwing balls in the dirt, Brandon Lowes struggles, Jeff Luhnow again denying he knew about the Astros cheating and Steve Cohens official approval to buy the Mets (8:00). Plus, Sarah Langs plays The Numbers Game with notes on Clayton Kershaw, Cody Bellinger and Betts (34:33).

Field, Matthew and Kyle talk the latest news around the NFL, Week 7 rankings and finish the show with trivia.

Katie and Ashley try to help out an Atlanta sports fan who has had enough. Then Katie gets into her confusion on what day it is and confronts Ashley on her hall pass. The Eagles lost again, does Kansas City have too many pizza toppings, a potential nickname for Chase Claypool, and the Jets have another butt play. Bob Ryan claims hes never heard of a Twix and Katie has THOUGHTS. Finally, the Bachelorette is back!
SVP & Stanford Steve are joined by actor/comedian Joel McHale as he talks about hosting ABCs Card Sharks, being mistaken for Daniel Tosh, walking on the football team at Washington & more. Plus, Scott on the Spot that includes the Big Ten, Poop Town and Lyman Orchards.

NBCs Mike Tirico discusses his illustrious career thats included MNF with Jon Gruden, NBA Finals with Hubie Brown, the Olympics and everything in between. Plus, Greeny tells a story about when Mike Tirico filled in for him on Mike & Mike and why it made him nervous.
FIND YOUR FAVORITE PODCAST
FOLLOW US ON TWITTER

Get the latest updates on Twitter. Follow us.