MUST LISTEN
Louis Riddick
Adam Schefter talks to ESPN's Louis Riddick about his three-phase life in the NFL, how he still critiques his film, interviewing for GM jobs around the league, his predictions for the 2018 season and more.
Play | Download | Apple Podcasts | RSS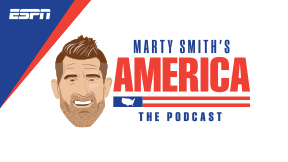 Hillbilly Deluxe
Marty talks with Ronnie Dunn from Brooks & Dunn about why they broke up, the impact of their songs and the state of country music. Plus, Marty had a minor issue on a jet ski
Play | Download | Apple Podcasts | RSS
MOST POPULAR
Bomani Jones and Pablo Torre discuss if Masai Ujiri owes DeMar DeRozan an apology, if Carmelo Anthony will make the Rockets better or worse, if the NFL & NFLPA will ever come up with a solution and much more.

Will Cain, Jason Fitz, and Mike Golic Jr debate how NFL players should react to the NFL freezing anthem protest rules, drama with the Patriots, and much more.

The guys talk with ESPN NFL Analyst Tim Hasselbeck who talks about the anthem protests, training camp beginning and more. They also talk about hung over golfer Eddie Pepperell
The crew take a voicemail from a listener moving back home with his parents (0:25), talk about the Golden Knights making the Stanley Cup Finals in their first year as a team (15:30), the people at Preakness and the Royal Wedding who have "crazy hat confidence" (26:00) and Katie's Top 10 NBA moments of 2018 (42:30).

Adam welcomes Kirk Herbstreit & Chris Fallica to discuss their perspective on the top players in this year's NFL Draft, their role in ESPN's draft coverage and more (:31). Plus, the return of #AskAdam (21:09).
FIND YOUR FAVORITE PODCAST
FOLLOW US ON TWITTER

Get the latest updates on Twitter. Follow us.