MUST LISTEN
Rodgers & Douglas
Adam Schefter talks to NFL Films' Ken Rodgers about the selection of the Raiders for "Hard Knocks" (:54). Plus, Jets GM Joe Douglas (30:48) & a tribute to Pat Bowlen (51:30).
Play | Download | Apple Podcasts | RSS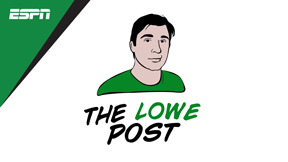 Kevin Arnovitz
Zach talks to ESPN's Kevin Arnovitz about the Anthony Davis trade (1:48), what's next for the Pelicans and Lakers (20:10), Boston's year from hell (32:27), the wide-open 2020 title chase (49:19), free agency, and much more.
Play | Download | Apple Podcasts | RSS
MOST POPULAR
Tony & Michael discuss the reported "unsalvageable" relationship between Chris Paul & James Harden, the biggest NBA move of the day & the Wizards' draft strategy without a GM. Plus, "Five Good Minutes" with Julie Foudy.

Stephen A. & Max talk to NBA prospect Cam Reddish, question what's going on with the Celtics, and tell us who will win NBA MVP next season.

The Lakers are trying to add a max player and the NBA Draft is one night away. The guys break it down with Chauncey Billups, Mike Schmitz and more.
The crew take a voicemail from a listener moving back home with his parents (0:25), talk about the Golden Knights making the Stanley Cup Finals in their first year as a team (15:30), the people at Preakness and the Royal Wedding who have "crazy hat confidence" (26:00) and Katie's Top 10 NBA moments of 2018 (42:30).

Adam welcomes Kirk Herbstreit & Chris Fallica to discuss their perspective on the top players in this year's NFL Draft, their role in ESPN's draft coverage and more (:31). Plus, the return of #AskAdam (21:09).
FIND YOUR FAVORITE PODCAST
FOLLOW US ON TWITTER

Get the latest updates on Twitter. Follow us.