MUST LISTEN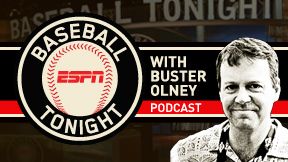 Buying In?
Buster Olney talks to Ryan Divish and Keith Law about Felix Hernandez's injury. Plus, Buster and Keith play "Buy or Sell" with early season trends and more. Later, Buster catches up with White Sox 3B Matt Davidson and ESPN 1000's David Kaplan answers the question of what will lead Theo Epstein's HOF plaque.
MOST POPULAR
Michael Wilbon and Frank Isola discuss the NFL Draft, the Celtics putting the Bulls on the brink of elimination, how confident they are in the Wizards, look ahead to the Penguins-Capitals series rematch and more.

Stephen A. and Max debate what they think the Browns should do with the first pick, discuss Russell Westbrook's future, how confident they are in the Wizards and more.

Mel Kiper Jr. joins Greeny & Golic to break down the first round of the NFL Draft and to look ahead to the prospects that are still available.
Bill Barnwell and Kevin Pelton discuss the NBA Playoffs so far, including Houston getting by the Thunder, the Spurs-Grizzlies battling it out and the Wizards-Hawks series.

We track down Bjorn in Arizona and find a man who is living but not alive. Despite their father leaving them, his kids yearn for a relationship, but will accept his safety.

Tom Waddle, Sarah Spain and Bill Barnwell break down Episodes 5 and 6 of We The Fans and discuss The First Down Lady and the horror of reliving the Bears-Titans game.
FIND YOUR FAVORITE PODCAST
ESPN Originals
ESPN TV
ESPN Radio
ESPN New York
ESPN Chicago
ESPN Los Angeles
FOLLOW US ON TWITTER

Get the latest updates on Twitter. Follow us.