MUST LISTEN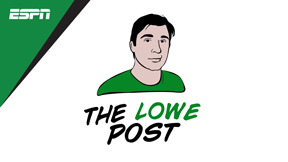 Tim Bontemps
Zach talks to ESPN's Tim Bontemps about Markelle Fultz, Raptors-Sixers, the reeling Spurs, surprising Mavs, and more. Plus, a special appearance by Rachel Nichols.
Play | Download | Apple Podcasts | RSS
Bombshells: Bieniemy, Woodson
Adam Schefter talks to Chiefs OC Eric Bieniemy about how the team dealt with the Kareem Hunt situation, Patrick Mahomes stellar season, his desire to be a head coach & more (1:25). Plus, Charles Woodson on the Packers' firing of Mike McCarthy & his Heisman vote (17:05) and Evan Kaplan talks about the best matchups of Week 14 (29:02).
Play | Download | Apple Podcasts | RSS
MOST POPULAR
Michael Wilbon and Frank Isola wonder what does the Jags' future look like, should the Lakers get Melo, was Rudy Gobert's frustration understandable after his ejection in the 1st quarter, are the Celtics who we thought they'd be and much more.

Stephen A. and Max are joined by Damien Woody to discuss who the Wild Card teams will be, Darren Woodson talks Eagles vs Cowboys and much more.

Trey Wingo talks about how he got his golf start, his love for golf in the desert and Tiger's resurgence. Plus, Matt educates Michael on proper proposal protocol.
The crew take a voicemail from a listener moving back home with his parents (0:25), talk about the Golden Knights making the Stanley Cup Finals in their first year as a team (15:30), the people at Preakness and the Royal Wedding who have "crazy hat confidence" (26:00) and Katie's Top 10 NBA moments of 2018 (42:30).

Adam welcomes Kirk Herbstreit & Chris Fallica to discuss their perspective on the top players in this year's NFL Draft, their role in ESPN's draft coverage and more (:31). Plus, the return of #AskAdam (21:09).
FIND YOUR FAVORITE PODCAST
FOLLOW US ON TWITTER

Get the latest updates on Twitter. Follow us.