MUST LISTEN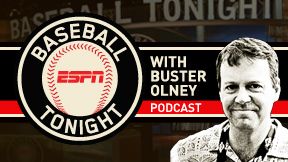 Storm Clouds?
Buster Olney and Tim Kurkjian discuss the contentious relationship brewing between Rob Manfred and the MLBPA, Matt Wieters' deal in Washington and more. Plus, a conversation with Orioles closer Zach Britton, Maria Torres of the KC Star and the Marlins' reaction to Jose Fernandez's toxicology report.
MOST POPULAR
Michael Wilbon and Tony Kornheiser discuss if the Pacers should trade Paul George, how much time will Magic Johnson need to turn Lakers around and Rob Manfred imposing new MLB rules.

Stephen A. Smith and Max Kellerman debate if Magic Johnson can lead the Lakers back to prominence, if Cam Newton's stock within the league has dropped and much more.

Greeny & Golic discuss Magic Johnson being named President of Basketball Operations, can DeMarcus Cousins change and NFL free agency. Plus the guys talk to Dale Earnhardt Jr.
Bill Barnwell, Dan Devine and Kevin Pelton break down the NBA trade deadline including Boogie and Lou Williams and the Lakers handing Magic Johnson the keys to the franchise.

Patriots QB Jimmy Garoppolo discusses potential trade rumors and if he'd rather stay in New England until Brady retires or go somewhere else to be the starter. Plus, Redskins free agent WR DeSean Jackson on what he's looking for in a team and if he'd welcome a return to Philly.

Andy Katz and Seth Greenberg discuss how some teams are putting together a final push as March approaches, comment on the firing of Mark Gottfried and chat with Kansas' Bill Self and Florida's Mike White.
FIND YOUR FAVORITE PODCAST
ESPN Originals
ESPN TV
ESPN Radio
ESPN New York
ESPN Chicago
ESPN Los Angeles
FOLLOW US ON TWITTER

Get the latest updates on Twitter. Follow us.