MUST LISTEN
Paul Finebaum
Mike Greenberg talks to Paul Finebaum about his meteoric rise in media (6:10), the passion for college football in the south (14:00), the curious case of Nick Saban (21:40), what the future holds for the SEC (31:50) and much more.
Play | Download | Apple Podcasts | RSS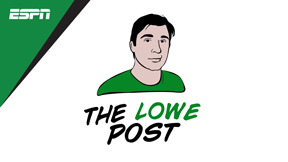 Jackie MacMullan & Rafe Bartholomew
Zach talks to Rafe Bartholomew and ESPN's Jackie MacMullan about "Basketball: A Love Story," their must-read new oral history of basketball.
Play | Download | Apple Podcasts | RSS
MOST POPULAR
Tony Kornheiser and Frank Isola debate if they are ready to anoint Baker Mayfield the Brown's savior, rein in enthusiasm for Sam Darnold, if it's smart to lower expectations for coach Frost and much more.

Stephen A. Max is joined by Damien Woody, Will Cain, and Tim Tebow to talk Wentz's return, how good the Cowboys are and if anybody can challenge Alabama!

The guys play "The Good, The Bad, The Ugly" before talking to ESPN NFL Insider Adam Schefter about Le'Veon Bell, Earl Thomas, Jameis Winston and more.
The crew take a voicemail from a listener moving back home with his parents (0:25), talk about the Golden Knights making the Stanley Cup Finals in their first year as a team (15:30), the people at Preakness and the Royal Wedding who have "crazy hat confidence" (26:00) and Katie's Top 10 NBA moments of 2018 (42:30).

Adam welcomes Kirk Herbstreit & Chris Fallica to discuss their perspective on the top players in this year's NFL Draft, their role in ESPN's draft coverage and more (:31). Plus, the return of #AskAdam (21:09).
FIND YOUR FAVORITE PODCAST
FOLLOW US ON TWITTER

Get the latest updates on Twitter. Follow us.