MUST LISTEN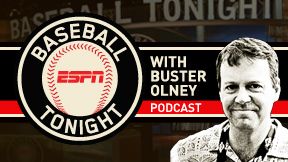 Market Shift
Before a conversation with two-time World Series champion David Ross, Buster Olney and Jon Sciambi discuss how Oakland A's pitcher Sonny Gray's recent performances have shifted the starting pitching market, pitcher David Price's status with the Boston Red Sox, more oddities with the New York Mets and more. Plus, Rob Biertempfel on star outfielder Andrew McCutchen's future with the Pittsburgh Pirates.
MOST POPULAR
Tony Kornheiser and Michael Wilbon discuss Game 5 in Boston tonight and LeBron's illness, Tyronn Lue's comments on defending the Warriors and Celtics, Game 7 between the Penguins and Senators and more.

Stephen A. Smith and Max Kellerman react to the Cavaliers' Game 4 win, Kyrie Irving's performance and are joined by Falcons coach Dan Quinn.

Adnan and Booger engage in Love It Or Shove It and are joined by Jeremy Schaap to talk about the great story he did on P.K. Subban.
Chad Millman and Bob Scucci talk 2017 NFL win totals and break down the NBA Finals.

Ahead of Memorial Day Weekend, Adam Schefter sits down with Steelers' LT Alejandro Villanueva to discuss memories from his military service, blocking for a patient Le'Veon Bell and what's next for his NFL career.

Buster Olney talks to Red Sox legend David Ortiz about his playing career, former teammates trying to convince him to come back, his speech after the Boston Marathon attack and much more.
FIND YOUR FAVORITE PODCAST
ESPN Originals
ESPN TV
ESPN Radio
ESPN New York
ESPN Chicago
ESPN Los Angeles
FOLLOW US ON TWITTER

Get the latest updates on Twitter. Follow us.