MUST LISTEN
Unlucky Week 7
Matt Schick, Adam Rittenberg and Ryan McGee discuss how Week 7's stunning upsets re-shaped the landscape (13:48), Nebraska's new AD (4:31) and much more. Plus, another edition of "Talk Nerdy To Me" with Brad Edwards (41:12).
Play | Download | Apple Podcasts | RSS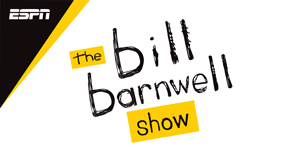 Week 6 Superlatives
Bill and Sheil Kapadia take a look back at Week 6 in a superlative format, including which team had the best win, worst loss, the biggest surprise of the week and more.
Play | Download | Apple Podcasts | RSS
MOST POPULAR
Michael Wilbon and Tony Kornheiser weigh in on the NFL storylines from Week 7, the MLB Playoffs, Mail Time! and more.

Stephen A. and Max Kellerman react to Week 7 of the NFL including Colin Kaepernick filing a grievance and Aaron Rodgers missing the rest of the season.

Greeny & Booger take a look back at last night's ALCS with the Yankees getting back into the series behind the pitching of CC Sabathia. Plus the NBA season opens tonight.
The Fellows discuss the National Anthem and sporting events with Marine, Ron Terrell, and get advice from Steve Harvey Show digital producer Amber McKynzie on social media.

When he played for the Patriots, Titans CB Logan Ryan adopted a shelter dog named, Leo. The joy Leo brought to his household led Ryan to start a campaign to save shelter dogs.

Seth and Dan have a conversation with Louisville interim coach David Padgett about taking over the job and how he and his players have been getting ready for the season. Then, the guys discuss the latest regarding the investigations into the Oklahoma State and Kansas programs.
FIND YOUR FAVORITE PODCAST
FOLLOW US ON TWITTER

Get the latest updates on Twitter. Follow us.