MUST LISTEN
Adrian Wojnarowski, ESPN
Adam Schefter talks to Sr. NBA Insider Adrian Wojnarowski about the NBA Draft (2:42), LeBron James' future (4:40), his life as an Insider (11:27), the origin of the "Woj Bomb" (26:10) and more.
Play | Download | Apple Podcasts | RSS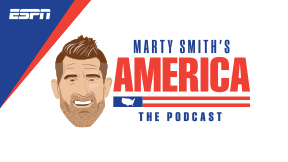 The Lane Train
Marty chats with FAU head coach Lane Kiffin about his use of Twitter, working for Nick Saban & being asked to wear a bullet proof vest. Plus, Marty talks mullets.
Play | Download | Apple Podcasts | RSS
MOST POPULAR
Tony Kornheiser and Michael Wilbon weigh in on if the U.S. Open was more about Koepka or the course, World Cup talk including if Messi is to blame for the tie, Barry Trotz quits and much more.

Max and Stephen A discuss Shaq's comments on LeBron, the possibility of Cowboys surprising people, and Odell's contract situation with Will Cain joining the show.

The guys talk about Capitals HC Barry Trotz resigning, play Bretymology and talk with World Golf Hall of Famer Colin Montgomerie and former USMNT HC Bruce Arena and more.
The crew take a voicemail from a listener moving back home with his parents (0:25), talk about the Golden Knights making the Stanley Cup Finals in their first year as a team (15:30), the people at Preakness and the Royal Wedding who have "crazy hat confidence" (26:00) and Katie's Top 10 NBA moments of 2018 (42:30).

Adam welcomes Kirk Herbstreit & Chris Fallica to discuss their perspective on the top players in this year's NFL Draft, their role in ESPN's draft coverage and more (:31). Plus, the return of #AskAdam (21:09).
FIND YOUR FAVORITE PODCAST
FOLLOW US ON TWITTER

Get the latest updates on Twitter. Follow us.