MUST LISTEN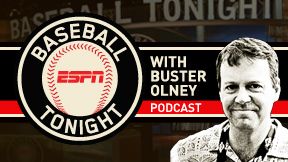 People Make The Game
Before conversations with Orioles manager Buck Showalter about being the AL East underdog and former big leaguer Aubrey Huff about his battles with addiction and anxiety, Buster Olney talks to Jayson Stark about a classic interaction with the late Dallas Green, his predictions for the season and more.
MOST POPULAR
Tony Kornheiser and Michael Wilbon cover the Warriors' win streak, if the Seahawks are taking offers for Richard Sherman, the Wizards' playoff standings and more.

Stephen A. Smith and Max Kellerman debate if James Harden is the true MVP of this NBA season, if Jason Garrett's comments on Tony Romo hurt his future job prospects and much more!

Greeny and Golic talked with Jay Bilas about the Final Four and Mel Kiper Jr. about the upcoming draft.
Chad Millman, Bob Scucci and legendary Las Vegas wise guy Alan Boston offer a full breakdown of the Final Four matchups. Plus, ESPN Chalk's Joe Peta goes over his top over/unders for the 2017 MLB season.

Each of the coaches in the Final Four joined ESPN Radio to reflect on their teams' accomplishments and look ahead to Final Four weekend.

Tristan Cockcroft, A.J. Mass and Kyle Soppe play out a twelve-team draft live on the pod as well as address some listener #06010MLB questions!
FIND YOUR FAVORITE PODCAST
ESPN Originals
ESPN TV
ESPN Radio
ESPN New York
ESPN Chicago
ESPN Los Angeles
FOLLOW US ON TWITTER

Get the latest updates on Twitter. Follow us.