MUST LISTEN
Evan Squared
Adam Schefter talks to Evan Silva about how he became Senior Football Editor at Rotoworld, some players he thinks could do well in the second half of the season, the growth of the fantasy football industry and more. Plus, ESPN NFL Researcher Evan Kaplan joins to talk about some NFL stat trends to keep an eye out for.
Play | Download | Apple Podcasts | RSS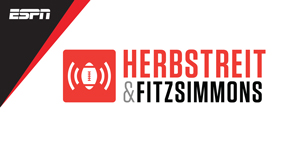 Clay Helton
Before a conversation with USC's Clay Helton about Sam Darnold, preparing for Notre Dame and more (13:30), Kirk Herbstreit & Ian Fitzsimmons discuss what can be learned from the chaos of Week 7 (1:30). Plus, they preview the biggest games of Week 8 (29:07).
Play | Download | Apple Podcasts | RSS
MOST POPULAR
Michael Wilbon and Tony Kornheiser weigh in on the NBA's opening night, the NFL owners meetings, the MLB Playoffs, Toss Up! and more.

Stephen A. joins Max from Cleveland ahead of the Cavs' season opener against the Kyrie Irving-led Celtics. The guys make their NBA season predictions and more!

ESPN MLB Analyst Chris Singleton joins us from the road to get us the latest on the baseball playoffs. Plus the latest on the Hayward injury, and the NFL player/owner meetings
After sharing his thoughts on the latest news involving LaMarcus Aldridge, Zach talks to comedian and NBA superfan Joe Mande about his beloved Wolves, the best and worst new Nike jerseys, writing for "The Good Place," the art of stand-up and more.

The Fellows discuss the National Anthem and sporting events with Marine, Ron Terrell, and get advice from Steve Harvey Show digital producer Amber McKynzie on social media.

When he played for the Patriots, Titans CB Logan Ryan adopted a shelter dog named, Leo. The joy Leo brought to his household led Ryan to start a campaign to save shelter dogs.
FIND YOUR FAVORITE PODCAST
FOLLOW US ON TWITTER

Get the latest updates on Twitter. Follow us.