MUST LISTEN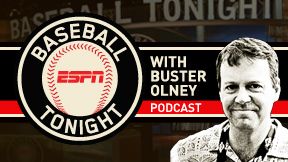 Tick Tock
Before a conversation with Indians shortstop Francisco Lindor, Buster Olney talks to Karl Ravech and Justin Havens about a lack of improvement in pace of play, Terry Collins' future in Queens, the Diamondbacks' surge under Torey Lovullo and more. Plus, Susan Slusser on Oakland's strategy with Sonny Gray.
MOST POPULAR
Tony Kornheiser and Michael Wilbon discuss the NBA Finals matchup, the Penguins and Predators meeting for the Stanley Cup, Red Sox pitchers racking up 20 K's, if the Yankees should be worried about attendance and more.

Stephen A. Smith and Max Kellerman debate if this year's Warriors squad is the biggest challenge of LeBron James' career, if the Spurs should make a run at Chris Paul and much more!

Stugotz joins the guys to discuss the NBA Finals, the Bryce Harper brawl and more. Plus, Barry Melrose on the Stanley Cup Final, and Greeny shares an amazing non-sports story.
Chad Millman and Bob Scucci talk 2017 NFL win totals and break down the NBA Finals.

Ahead of Memorial Day Weekend, Adam Schefter sits down with Steelers' LT Alejandro Villanueva to discuss memories from his military service, blocking for a patient Le'Veon Bell and what's next for his NFL career.

Buster Olney talks to Red Sox legend David Ortiz about his playing career, former teammates trying to convince him to come back, his speech after the Boston Marathon attack and much more.
FIND YOUR FAVORITE PODCAST
ESPN Originals
ESPN TV
ESPN Radio
ESPN New York
ESPN Chicago
ESPN Los Angeles
FOLLOW US ON TWITTER

Get the latest updates on Twitter. Follow us.