MUST LISTEN
James Murray, Impractical Jokers
Mike Greenberg talks to James "Murr" Murray from "Impractical Jokers" about the genesis of the show (11:30), the personalities of the other guys (16:24), the infamous punishments on the show (22:03), his comedic inspirations (36:07), his best-selling novel (48:28) and much more.
Play | Download | Apple Podcasts | RSS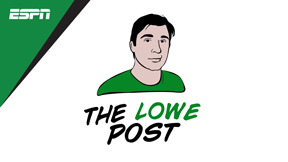 Jackie MacMullan & Rafe Bartholomew
Zach talks to Rafe Bartholomew and ESPN's Jackie MacMullan about "Basketball: A Love Story," their must-read new oral history of basketball.
Play | Download | Apple Podcasts | RSS
MOST POPULAR
Michael Wilbon and Tony Kornheiser ask what's more important, Tiger's win or what it potentially means for his future, will the Patriots turn it around, was the media too hard on the Bills, the NFL's elites and much more.

Stephen A. & Max question if Dak Prescott is overrated, react to the Vikings losing to the Bills, debate where the best place for Le'Veon Bell is and more!

The guys talk about the Steelers getting a much needed win and Ryan Fitzpatrick losing some of his magic before continuing their conversation on the NFL rules & more.
The crew take a voicemail from a listener moving back home with his parents (0:25), talk about the Golden Knights making the Stanley Cup Finals in their first year as a team (15:30), the people at Preakness and the Royal Wedding who have "crazy hat confidence" (26:00) and Katie's Top 10 NBA moments of 2018 (42:30).

Adam welcomes Kirk Herbstreit & Chris Fallica to discuss their perspective on the top players in this year's NFL Draft, their role in ESPN's draft coverage and more (:31). Plus, the return of #AskAdam (21:09).
FIND YOUR FAVORITE PODCAST
FOLLOW US ON TWITTER

Get the latest updates on Twitter. Follow us.