MUST LISTEN
Me Against You
Bomani Jones shares his thoughts on feuds between Russell Westbrook and the world (0:40) as well as LeBron James and Lance Stephenson (12:26). What is the NFL to do with their domestic violence policy (20:43)? Two stories put it to the test. Plus, "If You Haven't Heard" (35:09) and saying goodbye again to Prince (46:14).
Play | Download | Apple Podcasts | RSS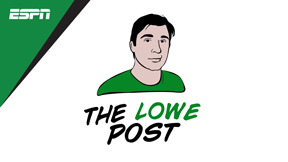 Kevin Arnovitz
Zach talks to ESPN's Kevin Arnovitz about Raptors-Wizards (1:04), isolation basketball, Wolves-Rockets (39:34), and more.
Play | Download | Apple Podcasts | RSS
MOST POPULAR
Michael Wilbon and Tony Kornheiser preview Game 5 of the Pacers-Cavs series, recap the Sixers win against the Heat, and predict who they will see in the second round.

Max and Stephen A. talk draft with Mel Kiper Jr. and Louis Riddick, talk to Landon Donovan about the Giants and question if LeBron's block was really goaltending.

The guys are live from Dallas for the NFL Draft. They recap the night in the NBA and talk about the NFL Draft with the help of Adam Schefter, Justin Tuck and more.
Adam welcomes Kirk Herbstreit & Chris Fallica to discuss their perspective on the top players in this year's NFL Draft, their role in ESPN's draft coverage and more (:31). Plus, the return of #AskAdam (21:09).

Zach talks to Chris Herring of FiveThirtyEight about Pelicans-Blazers (5:52), Jrue Holiday's great series, how concerned the Cavs should be (22:26), Thunder-Jazz (48:10), and Donovan Mitchell.

Bill Barnwell and Matt Bowen talk NFL Draft and how Lamar Jackson can succeed in the NFL. Plus, Kevin Pelton breaks down the Western Conference NBA playoff picture.
FIND YOUR FAVORITE PODCAST
FOLLOW US ON TWITTER

Get the latest updates on Twitter. Follow us.