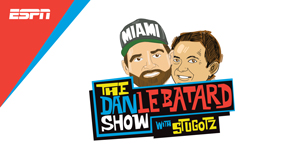 Hosts: Dan Le Batard and Stugotz
Weekdays 10:00 AM - 1:00 PM
Twitter: @LeBatardShow

@Stugotz790

Dan Le Batard and Stugotz bring their unique blend of self-deprecating humor, insightful guests and thoughtful conversation to a national audience from Miami Beach's Clevelander Hotel. Rotating guest co-hosts, including Miami Herald writer Greg Cote, provide listeners with a different experience each day.
PODCASTS
Dan Le Batard, Stugotz and company share their unique perspectives from Miami Beach's Clevelander Hotel.

Dan Le Batard presents his "questionable" approach to sports commentary.

Stugotz and Mike Golic Jr. kick off ESPN Radio's football coverage on Sunday mornings.
LeBatardShow

Dan Le Batard Show


#poll Do you like rainy days?
16 minutes ago

LeBatardShow

Dan Le Batard Show


#poll Is, "you're too busy fiddling around with your prosthetic nose," a great way to start a sentence?
48 minutes ago

reecejames_24

Reece James


Enough is enough. We are all HUMANS. Together we are stronger. #BlackLivesMatter ✊✊🏻✊🏼✊🏽✊🏾✊🏿 https://t.co/e2LCTYSXmQ
about 4 hours ago

MichaelRyanRuiz

Mike Ryan Ruiz


How we feeling about that whole "peaceful transition of power" thing potentially in a couple months? Big yikes.
about 16 hours ago

MichaelRyanRuiz

Mike Ryan Ruiz


Great thread https://t.co/xR2XhSl0G8
about 17 hours ago

LeBatardShow

Dan Le Batard Show with Stugotz


We have some really important conversations today that are worth your time. We talk to @bomani_jones, @DarthAmin an… https://t.co/pbGfdPquxW
about 22 hours ago

JakeFCohen

Jake Cohen


Rather than a bland meaningless statement, @ChelseaFC makes clear that the club is specifically joining the call fo… https://t.co/62SuQx0fvh
about 22 hours ago

LeBatardShow

Dan Le Batard Show


We have some really important conversations today that are worth your time. We talk to @bomani_jones, @DarthAmin an… https://t.co/pbGfdPquxW
about 22 hours ago

ParkerMolloy

Parker Molloy


Aaron from The National seriously had to put out a statement clarifying that he's not the leader of a group of anti… https://t.co/AlGiFa1ZH2
about 23 hours ago

LeBatardShow

Dan Le Batard Show


#poll Is the most apocalyptic thing to happen during these times, the sound that made it seem like Dan is against snacks?
1 day ago

Steven_Hyden

Steven Hyden


It's true that The National has repeatedly overthrown my emotional stability and instigated personal turmoil, parti… https://t.co/OjoLIy35UT
1 day ago

LeBatardShow

Dan Le Batard Show


.@billygil and @ChrisCoteESPN are joined today by @Marlins legend, @JPBeastMode. He tells this great story about… https://t.co/ApE5FXuQmv
1 day ago

LeBatardShow

Dan Le Batard Show


#poll Did John Cusack Say Anything...?
1 day ago

MnNiceFC

Wes Burdine


@coolsandstorm Confirmed another West Coast Antifa cell. Be on the lookout https://t.co/EuQHrUTWwS
1 day ago

coolsandstorm

Cole Sansom, gnocchi enthusiast


lmao - the alt-right are now circulating images of who they believe to be "antifa organizers" that are just the ind… https://t.co/b2NXMAkTdZ
1 day ago

AdequateEmily

AdequateEmily


We've found it. The whitest way to react to racism. https://t.co/aOE3PYESt7
1 day ago

LeBatardShow

Dan Le Batard Show


https://t.co/rCCAfdbRFu
2 days ago

LeBatardShow

Dan Le Batard Show


I don't remember another night in my life quite like this: The sheer volume of sad, horrifying video in what used t… https://t.co/ZyUwM6xQ6C
2 days ago

MichaelRyanRuiz

Mike Ryan Ruiz


A white man being able to speak to the media and complain about being beat up and losing his car after he tried to… https://t.co/sTqxRZ6z9N
2 days ago

oliverdarcy

Oliver Darcy


What a moment on CNN. https://t.co/T9XMzXmlVb
2 days ago