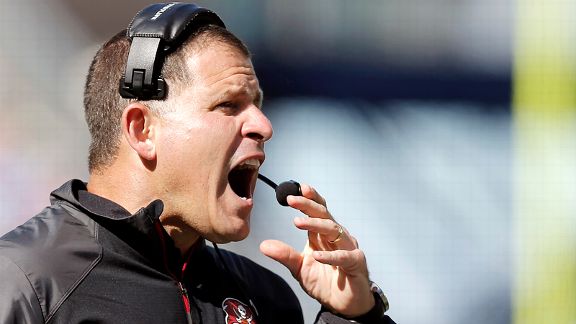 Winslow Townson/Getty ImagesBuccaneers coach Greg Schiano talks about his team's recent wins and Mike Glennon's performance.
Wednesday, Scott Van Pelt and Ryen Russillo discuss Alex Rodriguez's outburst, the latest news out of the NFL and more. Listen to the best highlights of the show below!
Scott and Ryen react to Alex Rodriguez storming out of his grievance hearing and weigh in on Rodriguez's behavior, the reasons behind his frustration and more. Listen

Buccaneers coach Greg Schiano comments on the changes his team made earlier this season, whether he worries about criticism, Tampa Bay's recent success, Mike Glennon's performance and more. Listen

Colts TE Coby Fleener dishes on his team's goals for the rest of the season, his hairstyle change, losing Reggie Wayne, transitioning from a rookie to a veteran and more. Listen

USC coach Ed Orgeron shares his thoughts about his team's turnaround, his reception, the resolution of the Trojans' quarterback situation and how it felt to win against Stanford. Plus, he says he still frequently talks to Lane Kiffin and more. Listen

ESPN NFL analyst Mark Schlereth says the NFL prioritizes money over player safety and offers his insight on the fine on Ahmad Brooks, Robert Griffin III's refusal to take responsibility for the Redskins' struggles, the AFC playoff picture and more. Listen

ESPN NBA analyst Tim Legler talks about the issues facing the Knicks, whether the Warriors and Blazers should be taken seriously as playoff contenders, Marcus Smart's pro potential and much more. Listen

Scott and Ryen break down their weekly power rankings as they unveil the Top 5/Bottom 3. Listen

PODCASTS
Ryen Russillo brings his own flavor to the game, mixing some pop culture with the latest happenings.