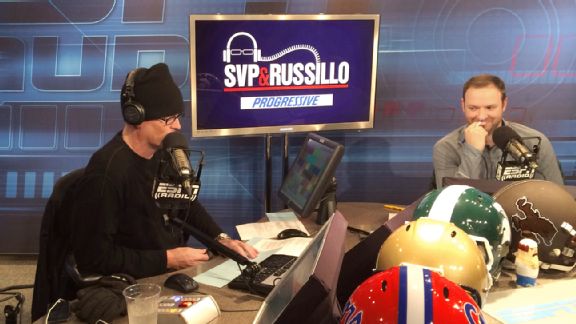 Ray Necci/ESPN RadioScott Van Pelt in his black hat as a symbol of mourning for Rob Gronkowski's knee injury.
Monday, Scott Van Pelt and Ryen Russillo break down a snowy weekend on the NFL gridiron, Florida State and Auburn matching up in the BCS title game and much more. Listen to the best highlights of the show below!
ESPN's Mike Tirico says it's refreshing to see the 49ers and Seahawks slug it out in physical games, comments on the inclement weather that impacted Sunday's action, explains why it will be so difficult for the Patriots to win a championship without Rob Gronkowski and more. Listen

ESPN college football analyst Danny Kanell talks about how Florida State and Auburn will match up against each other in the BCS National Championship, discusses how each team will use the next month to adjust their game plan and comments on Michigan State's upset of Ohio State. Listen

Sports Illustrated's Andy Staples explains why Auburn is such a huge underdog against Florida State, discusses the value of strength of schedule this season and more. Listen

PODCASTS
Ryen Russillo and Danny Kanell bring their own flavor to the game, mixing some pop culture with the latest happenings.