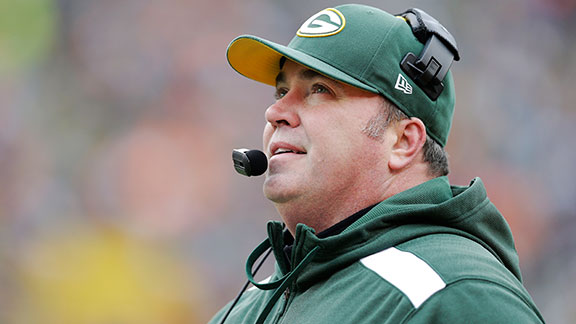 Tom Lynn/Getty ImagesPackers coach Mike McCarthy talks about the chances of Aaron Rodgers starting against the Steelers.
Wednesday, Scott Van Pelt and Ryen Russillo preview Pacers-Heat, cover Damian Lillard's game-winning shot in Blazers-Cavaliers and much more. Listen to the best highlights of the show below!
Packers coach Mike McCarthy dishes on his team's win over the Cowboys, Aaron Rodgers' status, the NFC North's unpredictability, Eddie Lacy's contributions and more. Plus, he comments on the decision to bring Matt Flynn back to Green Bay and more. Listen

Actor David Koechner talks about the decision to produce "Anchorman 2," the need to cut down the film, Adam McKay's impact on the movie and more. Listen

PODCASTS
Ryen Russillo and Danny Kanell bring their own flavor to the game, mixing some pop culture with the latest happenings.