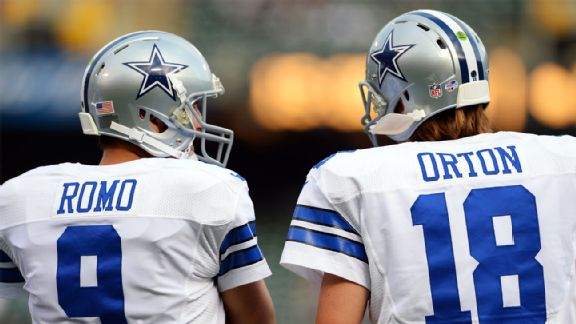 AP Photo/Greg TrottESPNDallas.com's Calvin Watkins tells Zubin and Seth about how long Tony Romo could take to return.
Friday, Zubin Mehenti and Seth Greenberg react to the news that Tony Romo is out for the season, Aaron Rodgers' return against the Bears and much more. Listen to the best highlights of the show below!
ESPNDallas.com's Calvin Watkins talks about the Cowboys' confidence in Kyle Orton, Dallas' defensive plan for the Eagles and how long Tony Romo will take to recover. Plus, Watkins says he chatted with Cowboys who didn't know until their conversation that Tony Romo had surgery and more. Listen

ESPN NFL analyst Damien Woody weighs in on the expectations for Kyle Orton, Rex Ryan's ability to connect with players, the keys to playoffs success and more. Listen


ESPN NBA analyst P.J. Carlesimo discusses the reports that the Knicks want to acquire Rajon Rondo from the Celtics, whether the Heat can stay engaged throughout the season, challenges Jason Kidd faces and more. Listen

PODCASTS
Ryen Russillo brings his own flavor to the game, mixing some pop culture with the latest happenings.