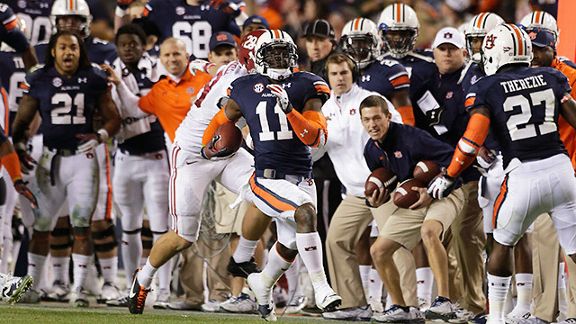 AP Photo/Dave MartinFormer Auburn LB Takeo Spikes talks about the Tigers' win over Alabama in this year's Iron Bowl.
Monday, Scott Van Pelt and Ryen Russillo recap wild-card weekend in the NFL, look ahead to the BCS title game and much more. Listen to the best highlights of the show below!
Former Auburn LB Takeo Spikes comments on the moment he thought the Tigers could turn things around, the significance of a BCS title win for his alma mater, the outcome of the Iron Bowl and more. Listen

College GameDay's Chris Fowler talks about what it will take for Auburn to beat Florida State, the Tigers' ability to perform in key moments, the coaching matchup in the BCS title game, the Seminoles' talent and more. Listen

ESPN NFL analyst Trent Dilfer shares his thoughts on the Chargers' turnaround this season, the toughness required for playoff success, Tim Tebow's recent development and more. Listen

Alabama coach Nick Saban discusses his players' mindset during his experiences in previous BCS championships, how Auburn and Florida State should approach the game, rebuilding his team and much more. Listen

PODCASTS
Will Cain gives you his unfiltered take on the biggest stories in the sports world.