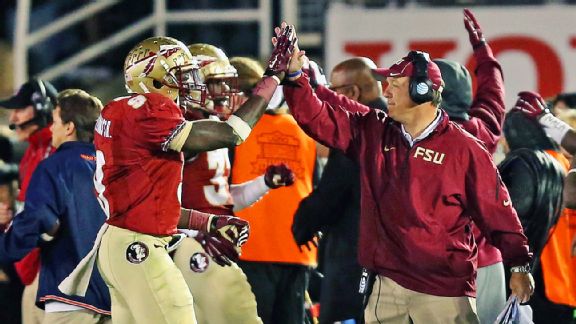 Jeff Gross/Getty ImagesFlorida State coach Jimbo Fisher talks about the Seminoles' BCS title win and the successful fake punt.
Tuesday, Scott Van Pelt and Ryen Russillo react to Florida State's win over Auburn in the BCS title game, the trade between the Cavaliers and the Bulls and much more. Listen to the best highlights of the show below!
Florida State coach Jimbo Fisher dishes on his team's BCS championship win, the successful fake punt, the Seminoles' approach to the second half of the game, how Auburn's defense affected Jameis Winston and more. Listen

Bills QB EJ Manuel comments on Florida State's BCS title win, whether he feels jealous of his former teammates and Jameis Winston's performance in the game. Plus, he discusses his rookie season in Buffalo and more. Listen

ESPN CFB Insider Travis Haney shares his takeaways from the BCS title game, explains the significance of Florida State's game-winning drive, picks his favorites to appear in the inaugural CFB Playoff and more. Listen

Sports Illustrated's Andy Staples reveals his top CFB teams for next season and weighs in on Jimbo Fisher's recruiting abilities, how coaching college football has changed and much more. Listen

PODCASTS
Ryen Russillo brings his own flavor to the game, mixing some pop culture with the latest happenings.