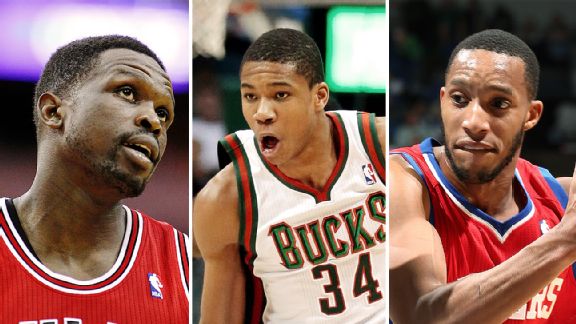 USA TODAY Sports, AP, GettyScott Van Pelt and Adnan Virk discuss the tanking of several NBA teams and how embarrassing it is.
Tuesday, Scott Van Pelt and Adnan Virk discuss the NBA teams tanking for better draft picks, what the Cleveland Browns' plans is, Bob Costas' going on IR and much more. Listen to the best highlights of the show below!
NFL prospect Aaron Murray discusses his hopes to be back by pro day, the amount of pressure on him to show teams what he can do while also staying healthy, what it's like working with Dr. Andrews, the process of his recovery, if he regrets coming back for his senior year and more. Listen

ESPN.com Browns reporter Pat McManamon talks about the multiple changes in the Browns' front office, the reasons for the changes, Cleveland's frequent overhaul in their positions of power in recent years and much more. Listen

St. Louis coach Jim Crews shares his thoughts on his teams #12 ranking, how it helps the school and program, how the team is handling their success, the lack of lottery players on the team and more. Listen

ESPN CBB analyst Jeff Goodman delves into Bill Self's comments on Joel Embiid, if Embiid needs to take a few days off, where Texas Tech is now that Marcus Smart is suspended for 3 games, if Virginia can win the ACC and much more. Listen

ESPN.com CFB analyst Travis Haney discusses the Michael Sam story, the way Mizzou was able to keep the story in-house since August, how he performed at the Senior Bowl, what position he'll be able to play in the NFL, his draft stock and more. Listen

PODCASTS
Ryen Russillo brings his own flavor to the game, mixing some pop culture with the latest happenings.