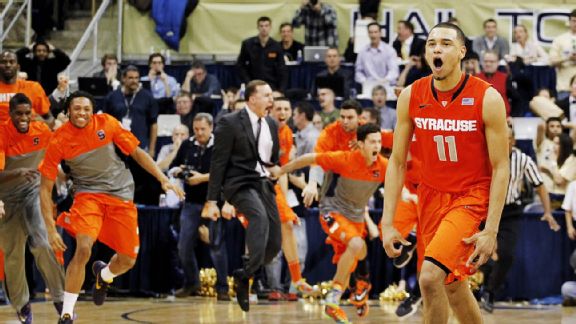 Charles LeClaire/USA TODAY SportsScott Van Pelt and Danny Kanell discuss Tyler Ennis' buzzer-beater and much more.
Thursday, Scott Van Pelt and Danny Kanell cover the game-winning shots by Tyler Ennis and LeBron James and much more. Listen to the best highlights of the show below!
Syracuse coach Jim Boeheim comments on Tyler Ennis' game-winning three-pointer in the Orange's win over Pittsburgh, his team's 24-0 start and more. Listen

Texas A&M coach Kevin Sumlin discusses how the rule changes in college football will impact the flow of offense, chats about Johnny Manziel's NFL future and much more.
Listen

ESPN's Michael Wilbon lends his perspective to LeBron James' game-winner against the Warriors, compares LeBron's season to Kevin Durant's and discusses who he thinks deserves to be the MVP at this point of the season. Listen

ESPN NBA analyst George Karl gives his takes on LeBron James' level of confidence, how teams handle the All-Star break and more. Listen

ESPN the Magazine's Chad Millman looks back at Super Bowl XLVIII and covers Yasiel Puig, Cuban baseball, analytics and more. Listen

NBA TV's Steve Smith weighs in on LeBron James' incredible night against the Warriors, how hitting game-winners impacts his legacy, the first half of the season and more.
Listen

PODCASTS
Ryen Russillo brings his own flavor to the game, mixing some pop culture with the latest happenings.