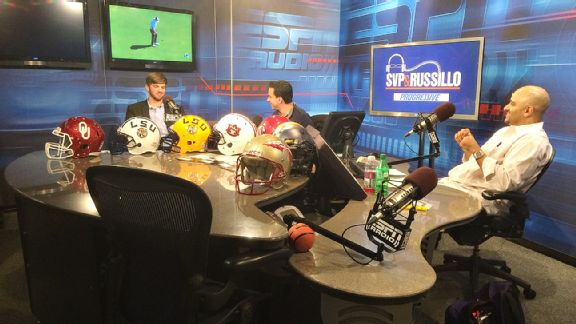 Ray Necci/ESPNZach Mettenberger joins Jorge Sedano and Jonathan Coachman to discuss his path to the NFL draft.
Friday, Jorge Sedano and Jonathan Coachman cover the Spurs victory over the Heat, if Melo is being recruited to Chicago and much more. Listen to the best highlights of the show below!
ESPN NBA analyst PJ Carlesimo on why last night's game meant more to the Spurs than the Heat, how the ends of games always seem to be an issue with the OKC Thunder, if Phil Jackson would go to the Knicks and more. Listen

ESPN CBB analyst Jay Williams discusses why he thinks Florida and Wichita State are the two best teams, Wisconsin's high level of play and much more. Listen

NFL Prospect Zach Mettenberger discusses his time at LSU, how it was different from his first year to his second year, his time at the NFL combine, how he's recovering from his injury and much more. Listen

PODCASTS
Ryen Russillo brings his own flavor to the game, mixing some pop culture with the latest happenings.