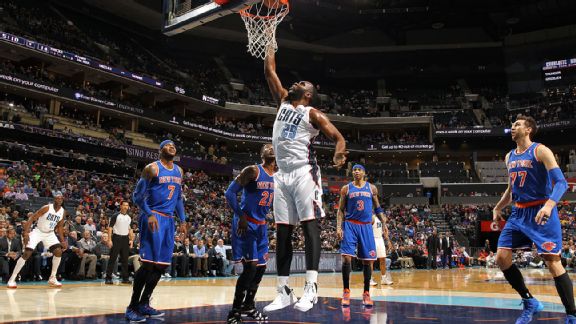 Kent Smith/NBAE/Getty ImagesAl Jefferson joins SVP and Ryen A. Russillo to discuss the Bobcats winning ways and Jordan's jeans.
Tuesday, Scott Van Pelt and Ryen A. Russillo discuss Phil Jackson's imminent signing with the Knicks, their Coaches Bracket and much more. Listen to the best highlights of the show below!
Charlotte Bobcats C Al Jefferson talks about his decision to with Charlotte, if he's surprised with how well the team has played, if he knew who Jan Veselư was before his time with the Bobcats, why Jordan can't afford better jeans and more. Listen

NBA on ESPN's Avery Johnson on how Phil Jackson will transition to the front office, if he would've taken the same deal had the Lakers offered it, why Gerald Green is such a great American story, if the Wizards had the Heat's full attention last night and more. Listen

NFL on ESPN's Tedy Bruschi discusses the NFL trade deadline, how Adam Schefter is holding up in the green room, how much overspending will take place, how much NE needs a CB like Talib and more. Listen

NFL Draftee Andre Williams discusses the NFL combine, what he thinks he'll run at his pro day, if teams are thrown off by the book that he's writing and more. Listen

PODCASTS
Ryen Russillo brings his own flavor to the game, mixing some pop culture with the latest happenings.