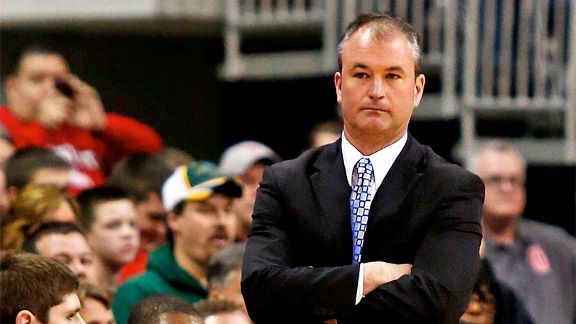 Kirk Irwin/Getty ImagesNorth Dakota State coach Saul Phillips joins SVP & Russillo to discuss ND State's win over Oklahoma.
Friday, Scott Van Pelt and Ryen A. Russillo discuss the NCAA tournament, the NFL draft and much more. Listen to the best highlights of the show below!
ESPN CBB Insider Jeff Goodman discusses getting pulled over on the way to a tournament game, if Boston College has any interest in Jim Calhoun, breaks down the NCAA tournament action and more. Listen

North Dakota State coach Saul Phillips discusses his teams upset over Oklahoma, how much fun it is to crash the party, what his career aspirations were as a kid, how blessed he feels to be a coach in the NCAA tournament and much more. Listen

Baylor F Cory Jefferson discusses his win over Nebraska, how much Baylor has changed since the beginning of the year, the amount of confidence they have, why that's so dangerous at this point in the season and much more. Listen

Mercer Coach Bob Hoffman on his team's win over Duke, what they did to win today, why he believed Duke was a beatable team, how much fun his team is having after the win and much more. Listen

PODCASTS
Will Cain gives you his unfiltered take on the biggest stories in the sports world.