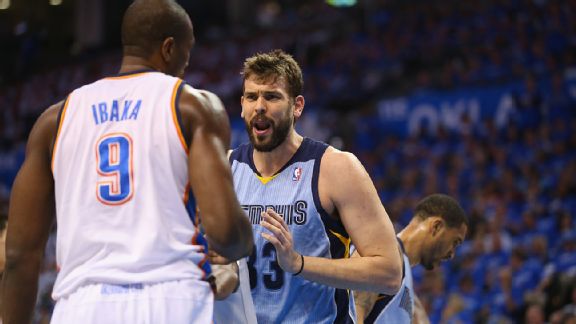 Ronald Martinez/Getty ImagesScott Van Pelt and Ryen A. Russillo cover Grizzlies-Thunder, Warriors-Clippers and the NBA playoffs.
Tuesday, Scott Van Pelt and Ryen Russillo discuss the NBA playoffs, Mike Slive's remarks regarding subdivisions and much more. Listen to the best highlights of the show below!
Trail Blazers coach Terry Stotts comments on Portland's win over the Rockets in Game 1, Damian Lillard, LaMarcus Aldridge, his team's balanced offense and more. Listen

Wizards G Andre Miller weighs in on his message to Washington's young players after the win over the Bulls in Game 1, Nene's performance and more. Listen

Michigan OL Taylor Lewan gives his takes on preparing for the NFL draft, what he is hearing about his stock, facing Jadeveon Clowney and more. Listen

ESPN investigative reporter Mike Fish dishes on his story regarding the death of Pat Tillman, whether there was a cover-up, his conversation with Bryan O'Neal and more.
Listen

ESPN MLB Insider Tim Kurkjian talks about Miguel Cabrera's slow start, the Brewers-Pirates brawl, the Nationals' treatment of Bryce Harper and more. Listen

PODCASTS
Ryen Russillo and Danny Kanell bring their own flavor to the game, mixing some pop culture with the latest happenings.