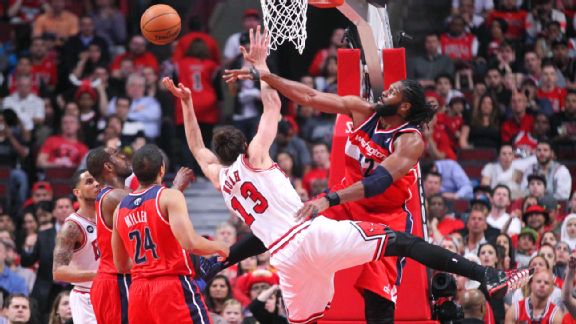 Dennis Wierzbicki/USA TODAY SportsScott Van Pelt and Ryen A. Russillo cover the Wizards' win over the Bulls in Game 2 and much more.
Wednesday, Scott Van Pelt and Ryen Russillo discuss the NBA playoffs, Toronto's perception of Rob Ford and much more. Listen to the best highlights of the show below!
ESPN NBA analyst Tim Legler weighs in on the Wizards' win over the Bulls in Game 2, the report regarding an incident between Lance Stephenson and Evan Turner and more.
Listen

ESPN.com's Tom Haberstroh discusses Trail Blazers-Rockets, James Harden's defense, the Bulls' offense, the Pacers' struggles, LeBron James' usage and more. Listen

ESPN NFL draft Insider Todd McShay talks about the stocks of Johnny Manziel and Jadeveon Clowney, whether the Texans could trade the No. 1 pick and more. Listen

ESPN MLB Insider Buster Olney dishes on the significance of Albert Pujols' 500th homer, Masahiro Tanaka's strong start, the state of the AL East and more. Listen

PODCASTS
Ryen Russillo and Danny Kanell bring their own flavor to the game, mixing some pop culture with the latest happenings.