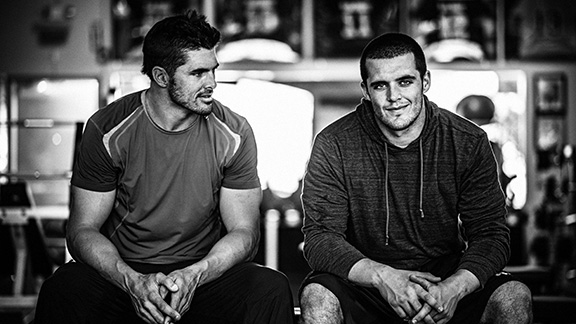 Rainer HoschDerek Carr discusses the NFL draft process, how people will compare him to his brother and more.
Friday, Scott Van Pelt and Ryen Russillo talk about OKC's win over the Grizzlies, the Pacers' forcing game 7, the NFL draft and much more. Listen to the best highlights of the show below!
NFL Draft Prospect Derek Carr talks about how his son has completely changed his perspective on life, Trent Dilfer's comments, why public perception happens and what his brother David said about him. Listen

Jaguars GM Dave Caldwell discusses the Jaguars mindset for the draft, what went wrong with Blaine Gabbert, Johnny Manziel's impressions during his visit, Justin Blackmon's offseason troubles and how they scout their talent analytically. Listen

ESPN Director of Scouts Inc. Todd McShay delves into the NFL draft, where the big drop off happens with rookie talent this year and which teams continually use smokescreens the best. Listen

ESPN NBA Insider Brian Windhorst talks about Mike Conley's injury, the anti-Durant backlash and how LeBron has had similar criticism, how LeBron choked during his early years, what Durant has to deal with on a nightly basis with Westbrook and more. Listen

PODCASTS
Ryen Russillo and Danny Kanell bring their own flavor to the game, mixing some pop culture with the latest happenings.