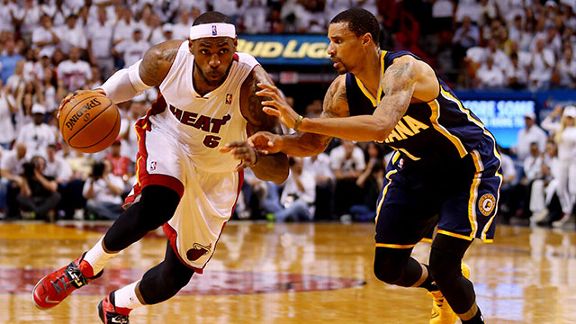 Mike Ehrmann/Getty ImagesScott Van Pelt and Ryen A. Russillo cover the Eastern Conference finals, LeBron James and more.
Tuesday, Scott Van Pelt and Ryen Russillo discuss the Heat's win over the Pacers in Game 4, Johnny Manziel's trip to Las Vegas and much more. Listen to the best highlights of the show below!
ESPN NBA analyst P.J. Carlesimo comments on Erik Spoelstra's style of coaching, Chris Bosh's usage, LeBron James' dominance, whether the Spurs can adjust to Serge Ibaka's return and more. Listen

ESPN MLB Insider Tim Kurkjian talks about the Blue Jays' recent hot streak, the Dodgers' pitching, whether the Marlins could trade Giancarlo Stanton, Jeff Samardzija's future and more. Listen

PODCASTS
Ryen Russillo and Danny Kanell bring their own flavor to the game, mixing some pop culture with the latest happenings.